Spotlight
---
Space Foundation Sponsors Make the Difference
Written by: developer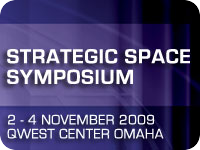 The Strategic Space Symposium is an extraordinary opportunity to hear from and network with USSTRATCOM. It is also filled with special Space Foundation events made possible through the generosity and support of an exclusive group of sponsors.
Space Foundation sponsors for the Strategic Space Symposium are:
Analytical Graphics, Inc.,  ATK, Bellevue (Nebraska) Chamber of Commerce, CISCO, CSC, CSP Associates, Defense Systems, Intelsat, Integral Systems, Inc., ManTech, and SpaceX are also Space Foundation co-sponsors at the Strategic Space Symposium.
These sponsors are creating an environment that enhances the experience for all attendees - from extraordinary networking opportunities to the chance to see and learn about the latest space technologies to easy access to business and cyber services. Plus, they are increasing their visibility, name recognition, and brand awareness among an audience of high-level decision makers.
If your company is interested in joining these companies as Space Foundation sponsors at the Strategic Space Symposium, contact [email protected] to find out how.
For more information about the Strategic Space Symposium, including online registration, agenda, speakers, and exhibitor information, go to www.StrategicSpaceSymposium.org. Also, see related Space Watch articles:
Industry Speakers
AMERICOM Exhibit Center
This article is part of Space Watch: September 2009 (Volume: 8, Issue: 9).
---
Posted in Spotlight