Report from Washington, D.C.
---
Space Foundation a Hit at IAC
Written by: developer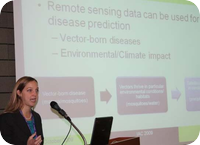 Space Foundation Research Analyst Mariel John presented two papers at the 60th International Astronautical Congress (IAC), Oct. 12-16, in Daejeon, South Korea.
Both papers - Space Activities in Developing Nations: Contributions to Capacity Building and Innovation and Remote Sensing for Disease Prevention in Nigeria -  focused on Nigeria as a case study for the positive impact space activity can have on a wide range of social, economic, and resource-related issues.
Both also cited data from the Space Foundation's The Space Report 2009: The Authoritative Guide to Global Space Activity. Members of the Nigerian IAC delegation attended John's presentation and indicated that they found it interesting. Nigeria has an active satellite program and is using remote sensing to manage resource issues within the country.
Hosted by the International Astronautical Federation (IAF), the IAC is a well-established and well-respected conference that attracted 1,500 participants, including members of the global space industry, academic researchers, and students from around the world. The week-long event hosted more than 100 technical sessions, allowing attendees to gain knowledge about current space projects, programs, and related technologies. The theme for the 2009 Congress was Space For Sustainable Peace and Progress.
During her time at IAC, John met with a number of influential space leaders from around the world and was able to share concepts from the Space Foundation's recent white paper, The International Space Station: Decision 2015, with representatives from other nations.
See related Space Watch articles on Nigeria's remote sensing programs here and on space for capacity builidng here. To see a full range of Space Foundation research information, click here.
This article is part of Space Watch: November 2009 (Volume: 8, Issue: 11).
---
Posted in Report from Washington, D.C.