Report from Headquarters
---
Space Foundation Pilots PreK-2 Program
Written by: developer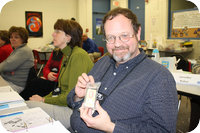 The Space Foundation just completed its second pilot of a new Space Across the Curriculum educator professional development course specifically for teachers of PreK-2nd grade students. Beginning in the summer of 2010, the new week-long course – PreK-2 Early Childhood Space Exploration – will join the Space Foundation's other six classes for grade PreK-high school teachers.
Twenty-four teachers from Colorado Springs-area schools and three teachers from Omaha spent two days, Jan. 25 and 26, at the Space Foundation Discovery Institute in Colorado Springs, Colo., learning how to interest very young children in science, technology, engineering, and mathematics (STEM) through activities involving robotics, stomp rockets, recycling, and visible light lessons.
Senior Aerospace Education Specialist Bryan DeBates took the teachers on a tour of the new Space Foundation Discovery Institute and introduced them to the Educator Resource Center, pointing out the variety of materials available to them.
"We'll do whatever it takes to support you," he said.
Most of the teachers participating in the pilot were already aware of the ongoing support available from the Space Foundation. Brandy Hoy, for example, a preschool teacher at Explorer Elementary School, Colorado Springs, said that Aerospace Education Specialist Bobby Gagnon contacted her to enroll in the pilot because he remembered her past interest in developing space activities for her class.
"He remembered that I had sought his advice in creating my own space activities for the preschoolers in my class and he thought I would be a good candidate for the pilot," said Hoy.
"We need feedback from the teachers to see how the activities translate to the classroom," said Gagnon. "Sometimes we tweak the activities to make them more dynamic before launching the full-length class."
Jennifer Baker a teacher at Discovery Trails Early Learning Academy, Colorado Springs, said she was interested in the class because "it's difficult to make space real for young children. They're interested in space, but the challenge is making it real for them and that's how this class helps us."
A highlight of the second day was a presentation by former astronaut and Navy captain Wendy B. Lawrence. She shared her experiences in space and passed around packets of rehydrateable foods for the teachers to inspect. She recommended activities for preschoolers, such as simulating spacesuit gloves by having the children perform simple activities in bulky gloves. She also suggested the teachers do a Google search for "astronaut photography" to find photos of Earth from space.
The week-long PreK-2 class for educators will be held June 14-18 at the Space Foundation Discovery Institute.
To see coverage in The Gazette (Colorado Springs), click here.
Pictured: Kurtis David, a first grade teacher at The Classical Academy-North, shows a packet of rehydrateable dinner rolls, such as those consumed by astronauts in space, part of a "show-and-tell" lecture by former astronaut Wendy B. Lawrence in the PreK-2 pilot program at the Space Foundation Discovery Institute.
This article is part of Space Watch: Februrary 2010 (Volume: 9, Issue: 2).
---
Posted in Report from Headquarters