Report from Headquarters
---
HazNet – All Hazards Network Earns Certification
Written by: developer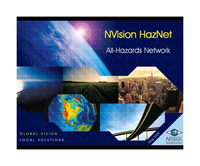 The HazNet – All Hazards Network, a web-based emergency management system provided by NVision Solutions Inc., has been designated a Certified Space Service by the Space Foundation.
HazNet combines the visual power of satellite-based Graphic Information Systems (GIS) mapping and analysis with the Department of Homeland Security-mandated reporting and organizational requirements of the National Incident Management System.
NVision based HazNet on lessons learned from multiple hurricane response and recoveries as well as from participation in emergency response exercises around the nation, HazNet was developed by programmers certified in the Department of Homeland Security Incident Command System and ex-military specialists who were also first responders in emergency operations centers along the Gulf Coast. It took more than five years of research and over 200,000 hours of operational testing to create the system, which is now an important tool for planning, response, and recovery to any sized crisis.
NASA, which supports HazNet through its Small Business Innovative Research Contracts, Dual-Use Technology Transfer Program, and Innovative Partnership Program, uses a highly customized version of the HazNet to protect the Stennis Space Center in Mississippi as part of its new Emergency Operations Center. NASA also purchased HazNet agency-wide to protect all major bases starting in March 2010. For more information on HazNet, click here.
Based at the Stennis Technology Park, NVision provides innovative geo-spatial solutions for small and large organizations, including application development and a full range of GIS, remote sensing, and database services. For more information on NVision, click here.
About Space Certification
The Space Foundation's Space Certification program recognizes products and services that were originally developed for a space-related endeavor and have now been adapted to improve life here on Earth. Space Certification, along with the Space Foundation's Space Technology Hall of Fame®, communicate the impact of the space industry through beneficial spin-off technologies. For information and to see a list of certified products, go to www.SpaceConnection.org.
This article is part of Space Watch: March 2010 (Volume: 9, Issue: 3).
---
Posted in Report from Headquarters