Report from Headquarters
---
Impressions of Space
Written by: developer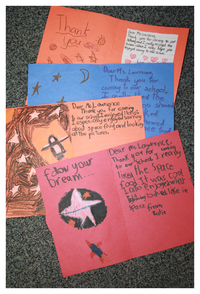 How much do very young children understand about space?
Students at The Classical Academy Central in Colorado Springs, Colo., recently sent thank you notes to former astronaut Wendy B. Lawrence, thanking her for speaking with them at their school. The Space Foundation sponsored Lawrence's visit to the school.
Made from colorful construction paper and decorated with drawings of stars, rockets, planets, and sometimes aliens, the students' cards also included comments about what they liked best about the presentation, which included photos from the International Space Station and samples of the kinds of food astronauts eat in space. Students in Mrs. Sutton's first grade class seemed most impressed by the food.
Chloe's note included a drawing of an astronaut on the Moon and read, "Thank you for teaching me about outer space. I learned that food could float!"
In his thank you note, Stephen wrote, "I learned you can eat food in space."
Hayden wrote, "I learned that you ate freeze dried food."
In addition to many comments about space food, there were other impressions. Kalen picked up on one of Lawrence's main messages, "I learned you have to study hard to be an astronaut."
From Madison, "I learned how much the astronaut suits weigh."
Ryan wrote, "I thought it was funny that mice went to space and flew across the cage."
And finally, some students echoed Lawrence's inspirational message. In her thank you note, Lorena wrote, "Your assembly was beyond the best. I think that it will inspire more people to become astronauts and figure out how to get all the way to Mars and back again."
Brady's read, "I personally think that you are a truly amazing person."
And finally, from Addison, "If you follow your dreams they might come true!"
Lawrence's visit to The Classical Academy was part of a week of activities, sponsored by the Space Foundation, where she spoke with students and community members at several schools in the Colorado Spings area, including the Jack Swigert Aerospace Academy.
 
This article is part of Space Watch: March 2010 (Volume: 9, Issue: 3).
---
Posted in Report from Headquarters