Report from Headquarters
---
Space Artist Robert McCall Dies at 90
Written by: developer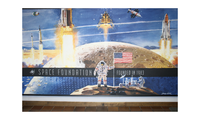 Space Artist Robert McCall, whose work graces the Smithsonian's Air and Space Museum and the Space Foundation's headquarters building, died in Scottsdale Arizona on Feb. 26 at the age of 90.
McCall created concept sketches for Star Trek: The Motion Picture and Disney's The Black Hole, designed the poster art for Stanley Kubrick's masterpiece 2001: A Space Odyssey, developed NASA patches, and developed art for NASA and the U.S. Postal Service that commemorated many of the greatest moments in space in the form of 21 different postage stamps, some of which were carried to the moon and back. His The Space Mural – A Cosmic View mural depicting the creation of the universe leading to man's conquest of the moon covers an entire wall spanning the entry hall of the Smithsonian's Air and Space Museum in Washington, D.C.
Other large McCall murals can be found at NASA's Johnson Space Center in Houston, the Dryden Flight Research Center in Lancaster, Calif., the Challenger Space Center in Peoria, Ariz., the Horizons Pavilion at Disney's EPCOT Center, and the Kansas Cosmosphere and Space Center (see related article in this issue of Space Watch).
In 2003, McCall created a mural in the lobby of the Space Foundation's Colorado Springs headquarters, commemorating the Foundation's 20th anniversary. A second McCall mural covers one entire exterior side of the headquarters facility.
"Bob McCall was not just the original space artist, he was a profoundly decent man who always saw the optimistic and good in his subjects," said Space Foundation Chief Executive Officer Elliot Pulham. "His love of space and space exploration came through in all of his work, and the Space Foundation is very fortunate to have been able to work with him on a number of projects in recent years. He inspired an entire generation of space artists, and our world is a much richer place for Bob's having been here."
Once described by author Isaac Asimov as the "nearest thing to an artist in residence from outer space," McCall first attracted the public's attention in the 1960s in LIFE, illustrating the magazine's series on the future of space travel.
McCall, who was born in Ohio and lived for the past 30 plus years in Paradise Valley, Ariz., donated much of his personal collection to the University of Arizona in 2007. That work became the foundation of the university's Museum of Art's Visual Arts Archive in Tucson, where it is on permanent display.
Read remembrances by space journalist Miles O'Brien here and in Space.com.
This article is part of Space Watch: March 2010 (Volume: 9, Issue: 3).
---
Posted in Report from Headquarters