Report from Headquarters
---
Maj. Gen. Basla Addresses Swigert Students
Written by: developer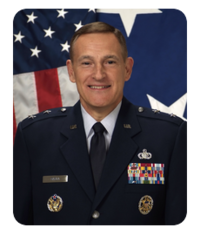 The Space Foundation works copperatively with Colorado Springs School District 11 ( D11) to provide space-themed curriculum at the Jack Swigert Aerospace Academy, with a goal of improving student proficiency in science, technology, engineering, and mathematics (STEM). The "hands-on, minds-on" classroom approach includes activities designed to build student enthusiasm for technical subjects. The Space Foundation also brings in guest speakers, such as NASA astronauts, to peak students' interest in space.
On January 28, the 25th anniversary of the Challenger accident, the Space Foundation hosted a presentation by Maj. Gen. Michael J. Basla, vice commander of Air Force Space Command, Peterson Air Force Base, who spoke to 220 sixth graders at Jack Swigert Aerospace Academy in Colorado Springs.
Basla explained the the mission of Air Force Space Command and its role in national defense.
Read more about Maj. Gen. Basla here.
This article is part of Space Watch: February 2011 (Volume: 10, Issue: 2).
---
Posted in Report from Headquarters