Report from Headquarters
---
Weighing in on Ending the Space Shuttle Program
Written by: developer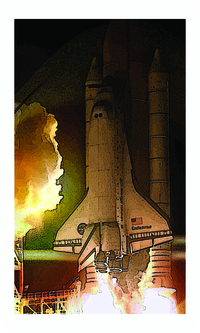 The end of the Space Shuttle program prompted earnest editorials from across the country. Here are some of our favorites:
From CBS News P.J. O'Rourke's comments
From the Delaware County, Pa., Daily Times
The North Jersey Tribune
The Telegraph
Read comments on the end of the Space Shuttle program by Space Foundation CEO Elliot Pulham in last month's Space Watch here.
Commemorative Space Shuttle Artwork
The Space Foundation is selling posters, postcards and art prints featuring six Space Shuttle designs (including the Endeavour image shown here). The digital designs - created exclusively for the Space Foundation - are based on original NASA photography. The net proceeds from the posters, postcards and art prints support the Space Foundation's education programs, which are developing the next generation of space professionals. To see more about ordering the Space Shuttle artwork, click here.
This article is part of Space Watch: August 2011 (Volume: 10, Issue: 8).
---
Posted in Report from Headquarters