Spotlight
---
Bruce Carlson is a Featured Speaker
Written by: developer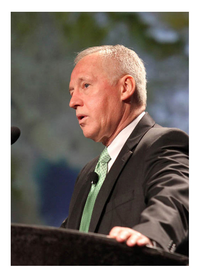 National Reconnaissance Office (NRO) Director Bruce Carlson, will be a featured speaker at the 28th National Space Symposium, to be held April 16-19 at The Broadmoor Hotel in Colorado Springs, Colo.
Presented by the Space Foundation, the 28th National Space Symposium brings together all sectors of space to highlight accomplishments and address opportunities and issues facing the global space community today. The Symposium offers presentations and panels covering all aspects of space, plus special events and presentation of several prestigious space-related awards.
About Carlson
The 17th director of the NRO, Carlson directs the agency responsible for space reconnaissance systems, intelligence-related U.S. national security activities and collection from space.
Carlson's career includes a broad range of military, space and intelligence assignments. He was commissioned as an Air Force officer after graduating with distinction from the Air Force ROTC program at the University of Minnesota, Duluth.
A command pilot with more than 3,700 flying hours in 10 different aircraft, his flying assignments included commanding the Air Force's first stealth fighter wing, the 49th Fighter Wing at Holloman AFB, N.M. His staff assignments included positions at Tactical Air Command, Headquarters U.S. Air Force, and the offices of the secretary of the Air Force and secretary of defense. He also served as the director of force structure, resources and assessment on the Joint Staff; commander of the 8th Air Force, Barksdale AFB, La.; and Joint Functional Component commander for space and global strike, U.S. Strategic Command, Offutt AFB, Neb.
Prior to his retirement from the U.S. Air Force, Carlson served as commander Air Force Materiel Command, Wright-Patterson AFB, Ohio, which is responsible developing, testing, acquiring and sustaining Air Force weapons systems. He was promoted from lieutenant general to general in 2005.
Among Carlson's many awards and decorations are the Defense Distinguished Service Medal with oak leaf cluster, Distinguished Service Medal with oak leaf cluster, Legion of Merit, the Meritorious Service Medal with two oak leaf clusters, the Air Force Commendation Medal with two oak leaf clusters, and the Order of the Sword, Air Force Materiel Command. He holds a master's degree from Webster University, St. Louis, Mo.
About the NRO
Headquartered in Chantilly, Va., the NRO is a joint DOD-Intelligence Community organization responsible for developing, launching, and operating America's signals, imagery, and communications intelligence satellites. Using NRO data, the NSA, NGA and NRO mission partners produce intelligence products for the president, Congress, national policymakers, warfighters and civil users.
Carlson reports to both the director of national intelligence and the secretary of defense, for whom he is the principal advisor for overhead reconnaissance. The NRO was established in 1961 as a classified DoD department and was declassified in 1992.
To Register
The Symposium will be offered in conjunction with Cyber 1.2, which will examine the evolution of cyberspace. Separate registration is required for Cyber 1.2 and secure online registration for both is available at www.NationalSpaceSymposium.org/register. Industry attendees can save money by registering before Jan. 13.
Pictured: Bruce Carlson speaking at the 27th National Space Symposium
This article is part of Space Watch: December 2011 (Volume: 10, Issue: 12).
---
Posted in Spotlight