Spotlight
---
Space Technology: Making Things Better
Written by: developer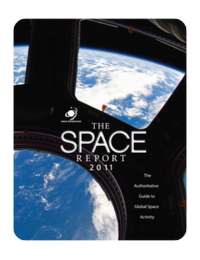 You may be aware of the important role that space products and services play in your daily life, providing weather information, communications, entertainment and a host of capabilities. But did you also know that space technology is improving the way that other products are created? The following three technologies are making valuable contributions to the manufacturing industry, resulting in safer, cheaper and more reliable products.
Glass inscriptions
A new laser technology, designed to create precise lenses and mirrors for space telescopes, is able to inscribe numbers inside glass without damaging it. The laser operates in a manner similar to lasers used in laser eye correction, by beaming energy through the surface of the glass to make changes within. This is useful in the pharmaceutical industry, which has a growing requirement to have serial numbers inscribed on every medical syringe and other supplies to enable traceability of distribution and to avoid confusion. The perfume, cosmetics and luxury beverage industries are becoming interested in using this technology to reduce counterfeiting. Trackinside, a Belgian company, is in the process of bringing the technology to market.
Optimized manufacturing operations
Using systems and technologies developed for the Hubble telescope and the Columbus laboratory module of the ISS, Kentec, an Italian company, designed a machine vision system that improves the reliability of glass manufacturing operations. Once started, a glass factory's oven needs to stay active because a stop in production cools the oven, damaging it and also significantly increasing energy costs. Kentec's machine vision technology monitors glass production processes to identify problems at early stages, reducing the need to stop production.
The machine vision imaging system uses advanced image distortion analysis techniques first developed to correct observations made by the Hubble telescope's flawed mirror prior to the installation of a corrective lens. Kentec's technology operates with high reliability because its data management systems leverage Kentec's previous work on the Columbus laboratory module. In 2010, an Italian manufacturing company, Vetrerie Riunite, began collaboration with Kentec to customize its system for use in a glass manufacturing plant that will produce headlights for cars, glass lighting fixtures and washing machine windows. Eventually, this machine vision system may be adapted to increase efficiency and reliability in the industrial production of not only glass, but also paper, metals, plastics and textiles.
Smart bolts
Technology designed to ensure proper operation of rovers exploring Mars is helping improve manufacturing on Earth. When deploying a vehicle to explore space and other planets, it is critical that bolts are properly tightened to ensure reliable operation. A bolt that is tightened too much may damage the components it is connecting, while a bolt tightened too little may wiggle loose. A German company, Intellifast, has created a smart bolt: a thin-film sensor can be applied to any bolt to measure stress on the bolt as it is tightened. Traditional measuring techniques such as torque wrenches or ultrasounds may be off by as much as 30 percent from a bolt's true applied stress. This results in designers relying on bolts that are oversized and heavier to ensure they hold. Because smart bolts can accurately measure the strain, a bolt can be made lighter and still be within a safe 3 percent margin of error. Weight savings incurred by use of the smart bolt are valuable to the aerospace, energy and structural engineering industries. Intellifast is also working with ZF Lemförder, an automotive component manufacturer, to bring smart bolts to the automotive industry.
These findings are among many facts in The Space Report 2011: The Authoritative Guide to Global Space Activity, which is available for purchase. Published by the Space Foundation, this definitive overview of the global space industry serves as a valuable resource for government and business leaders, educators, financial analysts, students and space-related businesses. Copies – in print, on CD-ROM or as a downloadable PDF – can be purchased online at www.TheSpaceReport.org – and multi-user licenses are available.
This article is part of Space Watch: December 2011 (Volume: 10, Issue: 12).
---
Posted in Spotlight