Report from Headquarters
---
Volunteer Now to be a Docent for the Space Foundation Visitors Center
Written by: developer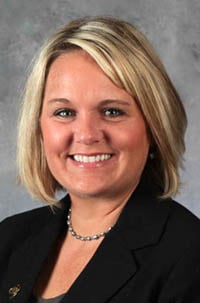 Space Foundation Volunteer Coordinator Jennifer Picard submitted this appeal for volunteers for the new Visitors Center, to open this fall.
The Space Foundation is seeking volunteers to serve as docents, greeters or operational supporters for our Visitors Center, which officially opens this fall – and we'd love for you to join us. You can work as little as eight hours per month to as often as four full days a week conducting tours and/or providing information for visitors to the Northrop Grumman Science Center and the El Pomar Space Gallery. Training begins in August, so apply today.
The Northrop Grumman Science Center, which includes a Science On a Sphere®, and the El Pomar Space Gallery, which features space artifacts and exhibits, comprises the initial phase of the Space Foundation Visitors Center. Both are located at the Space Foundation world headquarters at 4425 Arrowswest Dr., near Garden of the Gods in Colorado Springs.
The El Pomar Space Gallery exhibit, Launch to the Moon, focuses on U.S. and Soviet lunar exploration, providing an interesting look at both history and the cultural dynamics of the early "race to the Moon."
As a docent/tour guide, you'll conduct small group tours, answer questions and/or help visitors discover the vast array of information available on the Science On a Sphere and the El Pomar Space Gallery. As a reception desk volunteer, you'll welcome public and private tours, classroom groups, invited guests and the public. Or, if you aren't comfortable speaking to large groups, you can volunteer for a light security position that will provide operational support, assist with managing large class tours, handle admissions and assist with other operational projects.
Don't worry if you don't have any experience as a docent – we'll provide the training and support. All we ask is that you love to learn and that you enjoy sharing what you know with others. If you have museum or space experience, that's even better. Not comfortable with leading tours? That's okay, too. We'll need plenty of light security.
To volunteer or to find out more, contact me, Space Foundation Volunteer Coordinator Jennifer Picard at V[email protected] or +1.576.8000. You can also apply online and find out more information about the volunteer positions at www.spacefoundation.org/donate/volunteer.
This article is part of Space Watch: August 2012 (Volume: 11, Issue: 8).
---
Posted in Report from Headquarters