Space Foundation Press Releases
---
Space Foundation Seeks Nominations for 2013 General James E. Hill Lifetime Space Achievement Award
Written by: developer
COLORADO SPRINGS, Colo. (Sept. 10, 2012) – The Space Foundation is now accepting nominations for its highest honor, the annual General James E. Hill Lifetime Space Achievement Award. The award recognizes outstanding individuals who have distinguished themselves through lifetime contributions to the welfare or betterment of humankind through exploration, development and use of space, or through use of space technology, information, themes or resources in academic, cultural, industrial or other pursuits of broad benefit to humanity.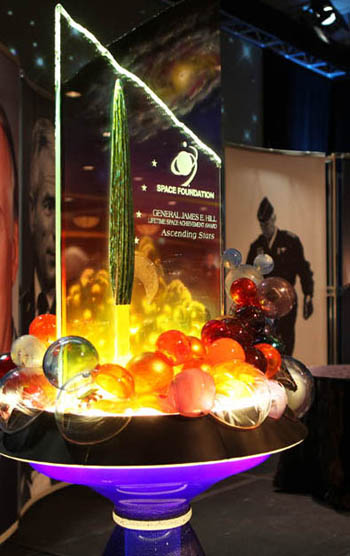 The award will be presented at a special luncheon on April 10, 2013, during the 29th National Space Symposium, at The Broadmoor Hotel in Colorado Springs, Colo.
The 2012 recipient was Gen. Thomas S. Moorman, Jr., USAF, Ret., former vice chief of staff of the Air Force. See more about the award at http://bit.ly/MkRTte.
General James E. Hill Lifetime Space Achievement Award
The Space Foundation's highest honor, the General James E. Hill Lifetime Space Achievement Award, is presented annually in honor of its late, long-time chairman, Gen. James E. Hill, USAF, Ret. Past honorees have included Norman Augustine, Gen. Bernard Schriever, Buzz Aldrin, Peter Teets, Dr. Hans Mark and E.C. "Pete" Aldridge, among others.
To Submit Nominations
Any person may nominate a candidate for the General James E. Hill Lifetime Space Achievement Award on or before Oct. 12, 2012; however, individuals may not nominate themselves. The nomination should be in the form of a letter, not to exceed two pages, addressed to Chief Executive Officer Elliot Pulham, Space Foundation, 4425 Arrowswest Drive, Colorado Springs, CO 80907. The Space Foundation Board of Directors will make the final selection.
About the 29th National Space Symposium
The annual Space Foundation National Space Symposium brings together all sectors of the global space community to highlight accomplishments and address issues. The 29th National Space Symposium will feature forums, panels, presentations, speeches, special events and ample opportunity to hear from and network with the space community's most influential leaders.
About the Space Foundation
The foremost advocate for all sectors of the space industry and an expert in all aspects of space, the Space Foundation is a global, nonprofit leader in space awareness activities, educational programs that bring space into the classroom and major industry events, including the National Space Symposium, all in support of its mission "to advance space-related endeavors to inspire, enable and propel humanity." The Space Foundation publishes The Space Report: The Authoritative Guide to Global Space Activity and provides three indexes that track daily performance of the space industry. Through its Space Certification and Space Technology Hall of Fame® programs, the Space Foundation recognizes space-based technologies and innovations that have been adapted to improve life on Earth. Founded in 1983 and headquartered in Colorado Springs, the Space Foundation conducts research and analysis and government affairs activities from its Washington, D.C., office and has a field office in Houston, Texas. For more information visit www.SpaceFoundation.org. Follow us on Facebook, LinkedIn and Twitter, and read about the latest space news and Space Foundation activities in Space Watch.
# # #
---
Posted in Space Foundation Press Releases