Space Foundation Press Releases
---
Gen. Hyten is Cyber 1.3 Luncheon Speaker
Written by: developer
COLORADO SPRINGS, Colo. (Feb. 14, 2013) – Lt. Gen. John E. Hyten, USAF, vice commander, Air Force Space Command, will be the featured speaker at the Space Foundation's Cyber 1.3 conference luncheon, to be held April 8 at The Broadmoor Hotel in Colorado Springs, Colo. The luncheon is co-sponsored by General Dynamics Advanced Information Systems.
Cyber 1.3 is a full-day conference that takes place immediately preceding the official opening of the 29th National Space Symposium. Cyber 1.3 is for anyone with an interest in or responsibility for the cyber domain, whether government policymaker, industry executive or military cyber professional/practitioner at any level.
Register for Cyber 1.3 now at www.NationalSpaceSymposium.org/register.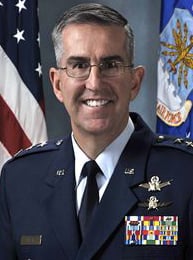 About Hyten
As vice commander, Air Force Space Command, Peterson Air Force Base, Hyten assists the commander in organizing, equipping, training and maintaining mission-ready space and cyberspace forces and capabilities for North American Aerospace Defense Command, U.S. Strategic Command and the other functional and geographic combatant commands. The command comprises more than 42,000 space and cyberspace professionals assigned to 134 locations worldwide.
Hyten attended Harvard University on an Air Force Reserve Officer Training Corps scholarship and graduated in 1981 with a bachelor's degree in engineering and applied sciences. He also earned a Master of Business Administration degree from Auburn University, Montgomery, Ala.
Cyber 1.3 Panel Discussions
As issues involving cyberspace become increasingly complex, it is more important than ever for cyber professionals to meet to discuss common concerns, goals and solutions. Panel topics for discussion among leading cyber professionals at Cyber 1.3 will include:
Cyber Pearl Harbor: Who-What-How?
Can the U.S. detect, thwart and respond to a cyber offensive that would leave our nation vulnerable to other, possibly more conventional, offensive efforts? Visions of a "Cyber Pearl Harbor" are forcing decision makers to take steps to avoid such a calamity.
Collateral Damage in Cyber Operations
With cyber becoming a more active arena for military and criminal activity, cyber decision-makers need to discuss what can be done to prevent, or at least minimize, the chances of innocent third parties becoming digital collateral damage.
Digital Natives and Their Solutions
Cyber has become increasingly vital to our nation's day-to-day operations, but also to how the nation defends itself. How does government and industry attract and retain a talented and innovative cadre of young men and women for long-term careers in the cyber domain?
Humans Wanted? Humans Needed? The Future of Cyber
Those who are charged with detecting, protecting and responding to negative cyber activity are finding the battle space increasingly crowded and increasingly active. The question needs to be asked, should humans be "in the loop" for timely decisions on handling cyber security threats in real-time?
Joint Cyber Operations with Friends and Allies
Cyber operations should be no different other military areas of collaboration. What can friends and allies learn from each other?
Register Now for Cyber 1.3
The Cyber 1.3 registration fee includes:
A networking breakfast, co-sponsored by Booz Allen Hamilton 
Featured speaker Maj. Gen. Suzanne Vautrinot, USAF, commander, 24th Air Force, and commander, Air Force Network Operations
The Cyber 1.3 luncheon, featuring Lt. Gen. John E. Hyten, USAF, vice commander, Air Force Space Command, co-sponsored by General Dynamics Advanced Information Systems
A closing networking reception
Aviation Week, Avionics Intelligence, Government Executive Media Group, Space News and Tech Briefs Media Group are Cyber 1.3 media co-sponsors.
The rate for active military/government personnel is $395 for the one-day conference. The standard industry rate is $495, which can be combined with Space Symposium registration for additional savings. Register securely for Cyber 1.3 at www.NationalSpaceSymposium.org/register.
About the Space Foundation
The foremost advocate for all sectors of the space industry and an expert in all aspects of space, the Space Foundation is a global, nonprofit leader in space awareness activities, educational programs that bring space into the classroom and major industry events, including the National Space Symposium, all in support of its mission "to advance space-related endeavors to inspire, enable and propel humanity." The Space Foundation publishes The Space Report: The Authoritative Guide to Global Space Activity and provides three indexes that track daily U.S. stock market performance of the space industry. Through its Space Certification™ and Space Technology Hall of Fame® programs, the Space Foundation recognizes space-based technologies and innovations that have been adapted to improve life on Earth. The Space Foundation was founded in 1983 and is based in Colorado Springs, Colo. Its world headquarters features a public Visitors Center with two main areas – the El Pomar Space Gallery and the Northrop Grumman Science Center featuring Science On a Sphere®. The Space Foundation also conducts research and analysis and government affairs activities from its Washington, D.C., office and has a field office in Houston, Texas. For more information, visit www.SpaceFoundation.org. Follow us on Facebook, LinkedIn and Twitter, and read about the latest space news and Space Foundation activities in Space Watch.
# # #
---
Posted in Space Foundation Press Releases