Year In Review (archive)
---
Annual Report: Our Reach Extends
Written by: developer
Following is information found in the Space Foundation's 2012 annual report. 
In 2012, the Space Foundation extended our reach in many directions.
Our Global Influence Grows...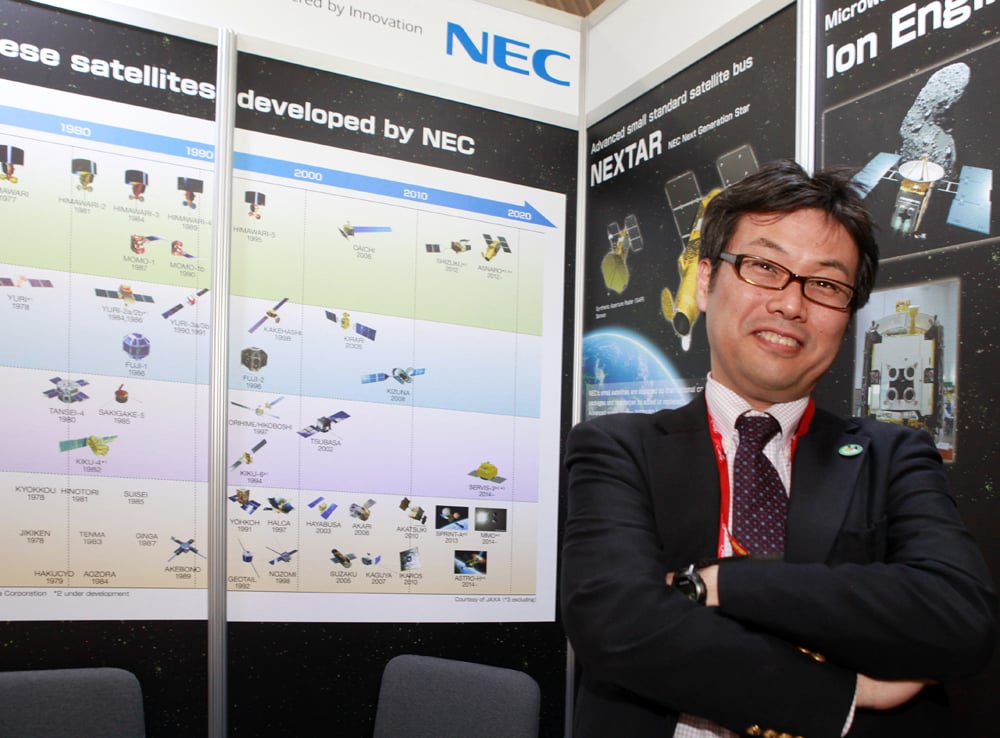 Promoting global collaboration and cooperation is one of the critical contributions the Space Foundation makes to the space community. During 2012, we participated in many international events and saw global partners more frequently integrated into all our programs:
We co-hosted a reception at the Australian Embassy in Washington, D.C., with Australian Ambassador Kim Beazley.
Our CEO and Vice President - Education traveled to the Isle of Man for a series of meetings, education presentations and media interviews designed to enhance the relationship between the U.S. and Isle of Man space industries.
The 28th National Space Symposium was more global than ever with almost 40 nations represented, including speakers and exhibitors from multiple nations (including, pictured above right, a cooperative exhibit featuring JAXA and a number of Japanese space firms), our first international Teacher Liaison attendee (pictured below, Teacher Liaison Vandana Suryawanshi from the Vidya Valley School in Pune, India) and our first-ever totally non-U.S. inductee into the Space Technology Hall of Fame®.
The Space Foundation's Space Across the Curriculum educator professional developmet program had its first-ever international participant, a teacher from the Isle of Man, who participated in a graduate-level Earth science class in Colorado Springs.
CEO Elliot Pulham participated in a panel discussion about the future of space on The World Today, Australia's leading afternoon radio current affairs radio program.
At the 55th session of the United Nations Committee on the Peaceful Uses of Outer Space (UNCOPUOS), Space Foundation, our Senior Vice President - Strategic & International Affairs gave a technical presentation and we co-hosted a reception with the U.S. State Department for the delegates and staff of the Office of Outer Space Affairs.
We hosted visits from officials from the Slovenian Centre of Excellence for Space Sciences and Technologies and the Mexican Space Agency (Agencia Espacial Mexicana).
Learn more about our international initiatives here.
---
We Gain Greater Local Exposure
We broadened community outreach with a wide variety of events and activities, many related to our new world headquarters and - later in the year - our new Visitors Center. Among our many local events in Colorado Springs were:
An open house (pictured, right), held in conjunction with our annual board meeting in January, introduced almost 200 community members to our new headquarters.
We sponsored the Colorado Springs Philharmonic's public performance of Holst's The Planets, Stravinsky's Fireworks and Gandolfi's The Garden of Cosmic Speculation.
We hosted the Colorado Space Business Roundtable (CSBR) Aerospace Exchange that brought more than 50 space executives from Denver and Colorado Springs to our headquarters for an evening of networking, information presentations and tours.
We welcomed business and government leaders for tours of our world headquarters and Visitors Center throughout the year; guests included Secretary of the Air Force Michael B. Donley, Air Force Space Command Vice Commander Lt. Gen. Michael J. Basla, Senator Michael Bennet (D-CO), Congressman Doug Lamborn (CO-05).
We were a sponsor of the Colorado Space Roundup at the Denver Museum of Nature and Science.
We partnered with the Colorado Springs Pioneers Museum to support a special traveling exhibit from the Charles M. Schulz Museum called To the Moon: Snoopy Soars with NASA. The exhibition, which runs through April 20, 2013, examines the history of Apollo 10 and the role characters from Schulz's popular Peanuts comic strip played in that flight and in the NASA Manned Flight Awareness safety program.
Our float (pictured, right) in the Colorado Springs Festival of Lights Parade was viewed by more than 70,000 people and won the "Rudolph Award" for best lighting on a float. The float, designed and built by Space Foundation team members, celebrated our new Northrop Grumman Science Center featuring Science On A Sphere®.
Team members answered phone calls and emails for the North American Aerospace Defense Command's NORAD Tracks Santa Program.
Salute to Air Force Space Command's 30th Anniversary in Colorado Springs . . .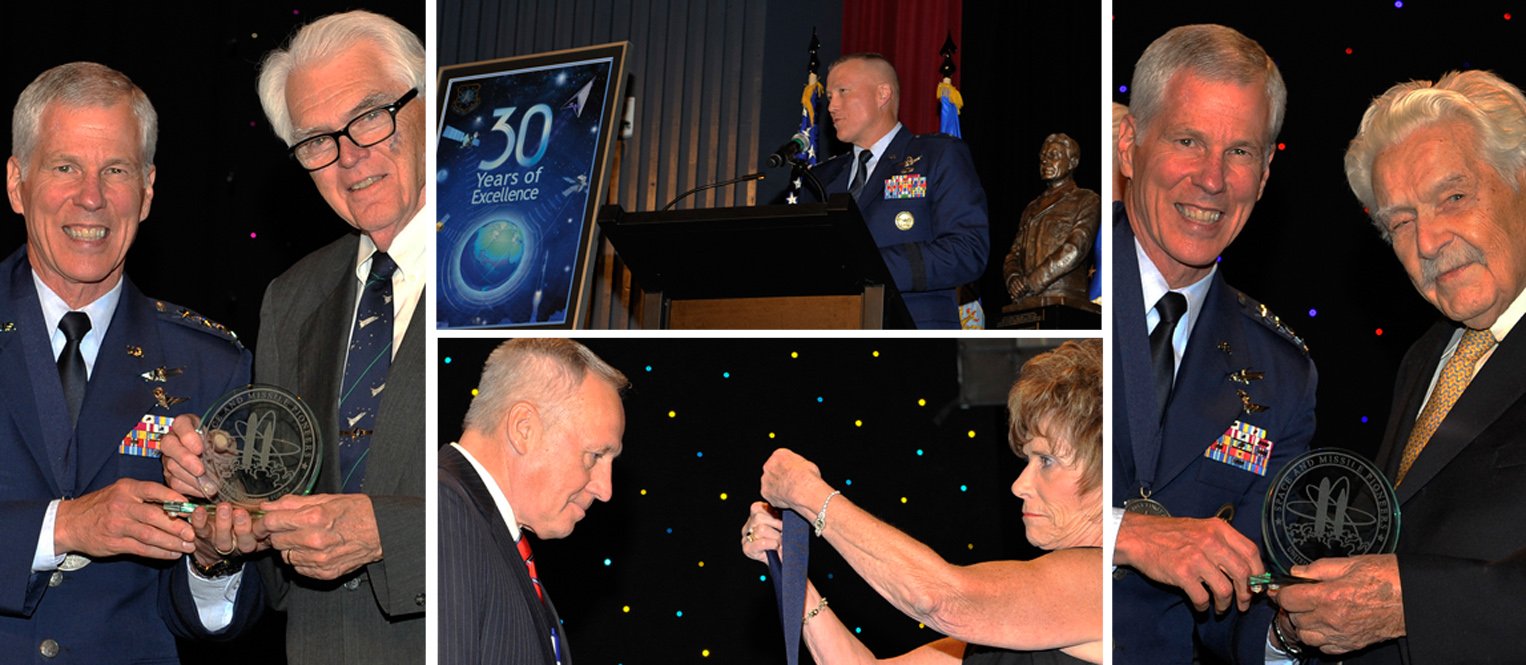 The Space Foundation served as the official community host for celebrations in both Colorado Springs and Washington, D.C., to commemorate Air Force Space Command (AFSPC)'s 30th anniversary.
A crowd of almost 600 attended The Space Foundation Presents a 30th Anniversary Salute to Air Force Space Command in Colorado Springs on Sept. 14. The event included a reception, dinner, awards presentations and remarks by former AFSPC Commander Gen. Kevin P. Chilton, USAF, Ret., who was introduced by current AFSPC Commander Gen. William L. Shelton, USAF. (Pictured, left, Shelton admires the commemorative poster created for the event.)
The Salute included:
Presentation of the National Defense Industrial Association (NDIA) Rocky Mountain Chapter General James V. Hartinger Award to Gen. Bruce Carlson, USAF, Ret.
Presentation of the Air Force Association (AFA) Lance P. Sijan Chapter's General Jerome F. O'Malley Distinguished Space Leadership Award to Maj. Gen. James K. "Kevin" McLaughlin, USAF.
Induction of Dr. Hans Mark and Col. John Paul Stapp, USAF, M.D. Ph.D., as winners of the Air Force Space and Missile Pioneers Award.
Introduction of the members of Air Force Space Command's Frontier Focus program.
Entertainment by the U.S. Air Force Academy band, Blue Steel.

... And in Washington, D.C.
The Army and Navy Club in Washington, D.C., was the setting on Sept. 18 for 140 guests who attended The Space Foundation Presents a Washington, D.C., Salute to the 30th Anniversary of Air Force Space Command. The evening began with a cocktail reception and entertainment from the Air Force Jazz Band Combo. The crowd was treated to a "Fireside Chat" with:
The Honorable Dr. Hans Mark, former secretary of the Air Force
The Honorable Edward "Pete" Aldridge, Jr., former under secretary of defense for acquisition, technology, and logistics and former secretary of the Air Force
Moderator Lt. Gen. Michael A. Hamel, USAF, Ret.
Additional highlights of the D.C. Salute included remarks from Shelton and ceremonial cutting of the cake. Vice President - Washington Operations Brendan Curry served as master of ceremonies.
---
 ...And, We Improve Awareness of the Positive Impact of Space Innovation
The Space Foundation builds awareness of the benefits of space through multiple activities. Our two flagship programs are Space Certification™ and the Space Technology Hall of Fame®.
Space Certification Adds New Partners
Space Certification make space more interesting and accessible to everyone by demonstrating how space technologies improve life on Earth. Products and services that display the Space Certification seal stemmed from or were dramatically improved by technologies originally developed for space exploration. Plus, we certify products that teach people about the value of space utilization.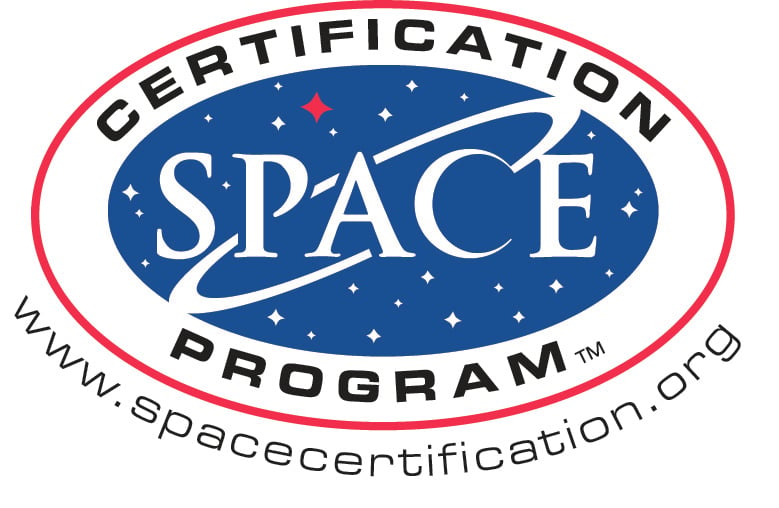 New partners in 2012 included:
New Certified Educational Products:
Space Education - MatchWits and Homework Hotline by Rocky Mountain PBS
We Want Our Future
New Certified Imagination Partners:
ScienSonic by ScienSonic Laboratories
The Space Collective
New Certified Technology Products:
Leaf Lock/Snap Lock Gutter System by TRUSS Building Products
Modular Air Revitalization System (MARS) by Paragon Space Development Corporation®
For more information, click here.
Space Technology Hall of Fame Adds First International Inductee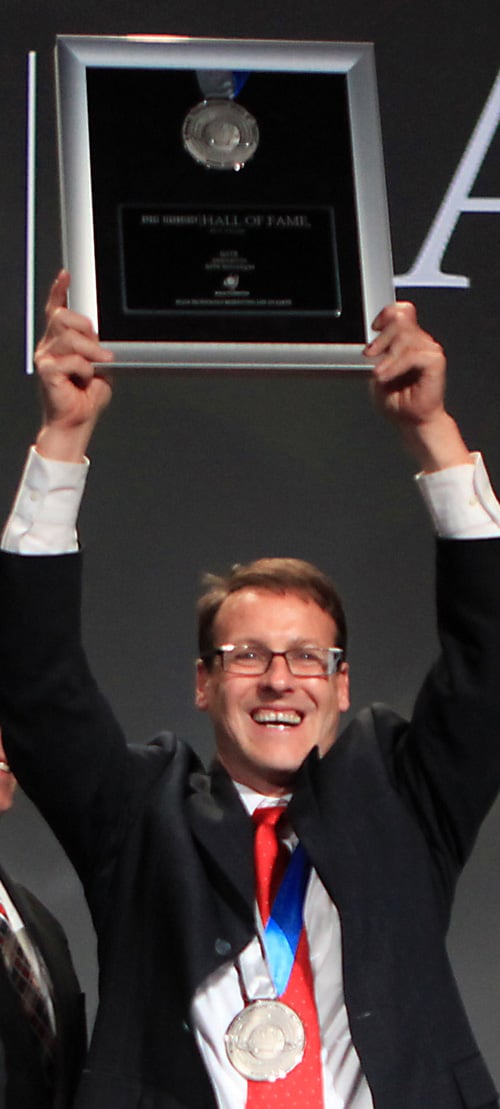 The Space Technology Hall of Fame increases public awareness of the benefits of space exploration and encourages further innovation.
Three separate events during the 28th National Space Symposium honored the organizations and individuals who commercialized the two space technologies, including a private induction ceremony, a reception and the Space Technology Hall of Fame Dinner.
As of the 2012 ceremony, we have inducted 67 technologies and honored hundreds of organizations and individuals who transformed space technology into commercial products that improve the quality of life for all humanity.
Our 2012 inductees are:
Flexible Aerogel, a low-density, lightweight insulating material originally developed as a barrier to the extreme temperatures during launches and in space, is now used in industrial, construction, refrigeration, automotive, medical and commercial applications. Developed by DLR (the German Aerospace Centre) and the private firm IQ Wireless. this was the first purely non-U.S. technology to be inducted.
FireWatch, our first purely non-U.S. inductee, is an optical detection system originally used to analyze comet gas and particle emissions that is now used to detect forest fires before they can cause serious environmental damage. Developed by Aspen Aerogels, Inc.,Aspen Systems, Inc., and NASA Kennedy Space Center.
Pictured, above left, FireWatch inductee Dr. Johann-Dietrich Woerner, DLR chairman of the executive board.
Learn more about Space Certification here and about the Space Technology Hall of Fame here. 
This article is part of Space Watch: April 2013 (Volume: 12, Issue: 4).
---
Posted in Year In Review (archive)