Education
---
Space Foundation Education Outreach in Florida
Written by: developer
"3, 2, 1 and liftoff of the Atlas V rocket, with MAVEN looking for clues about the evolution of Mars through its atmosphere!"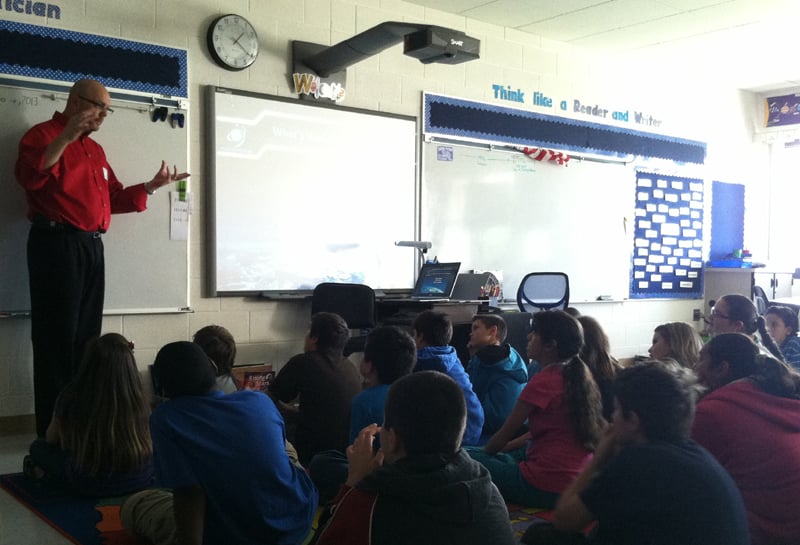 That's the call that came from NASA commentator George Diller after the successful launch of the new Mars mission. Space Foundation Director – Education Bryan DeBates and Space Education Specialist Elias Molen were among 2,000 special guests who watched the launch from Cape Canaveral Air Station's Space Launch Complex 41. The MAVEN, or Mars Atmosphere and Volatile EvolutioN, spacecraft, is on a 10-month journey to Mars to study the planet's atmosphere.
The invitation came as part of a special training for centers that house a Science On a Sphere®, such as the one at the Space Foundation's Discovery Center, and which will use new datasets created specifically for the sphere to tell the story of the atmospheric history of Mars.
"These new datasets and information from the spacecraft as it comes in will allow us to tell the story of Mars's evolution to our guests," said DeBates. "The information from MAVEN will also, hopefully, be able to answer the question of what happened to all of the water."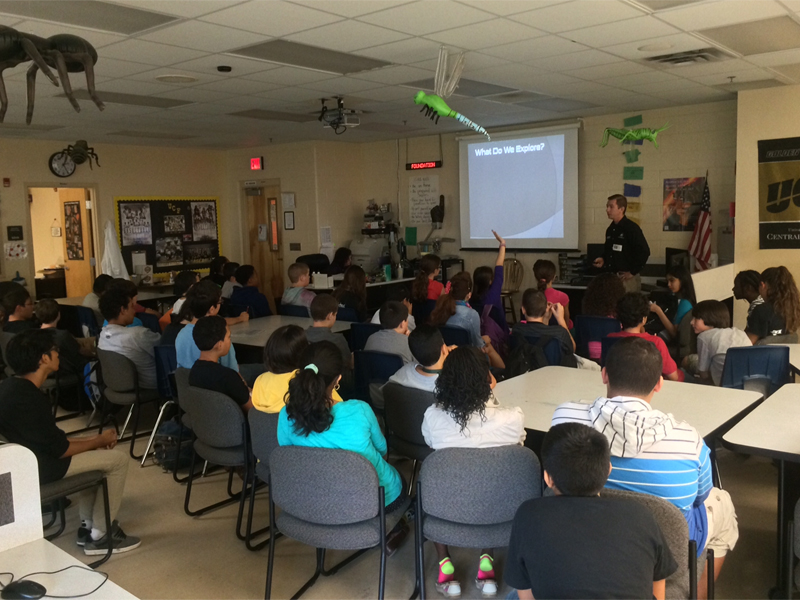 The trip to Florida also afforded the pair the opportunity to present student outreach for teachers who are part of the Space Foundation's prestigious Teacher Liaison program.
On Thursday, Nov. 14, they gave a presentation about space careers to 22 students of Teacher Liaison Lynn McDaniel's John Glenn Academy club at Stewart Middle School in Tampa, Fla. They followed with a presentation for Teacher Liaison Robin Little's fifth grade class at Safety Harbor Elementary School in Safety Harbor, Fla.
After attending the training and launch events, they continued their outreach on Tuesday, Nov. 19, with a presentation to 70 fifth grade students of MILA Elementary School in Merritt Island, Fla., via Teacher Liaison Amy Bolding. And they capped off their trip by participating in an all-day Teach-in at Kimberly Klein's Legacy Middle School in Orlando, Fla., where Molen presented to 180 middle school students.
For outreach opportunities for your school via Google Hangouts, contact the education team at [email protected] or call +1.719.576.8000 or +1.800.691.4000.
Learn how to apply to become a Space Foundation Teacher Liaison before the Dec. 6 deadline here.
Pictured top: Space Foundation Director – Education Bryan DeBates speaking to the fifth grade class of Space Foundation Teacher Liaison Robin Little at Safety Harbor (Fla.) Elementary
Pictured lower: Space Education Specialist Elias Molen speaking to students at Legacy Middle School in Orlando, Fla.
This article is part of Space Watch: December 2013 (Volume: 12, Issue: 12).
---
Posted in Education