Spotlight
---
Fourth Quarter 2013 Index Performance
Written by: developer
The Space Foundation Infrastructure Index, with 14 percent growth, led all other tracked indexes for the second straight quarter, as can be seen in Exhibit 1. The other four indexes showed relatively strong performance, with quarterly growth ranging from 9 percent to 11 percent heading into the new year.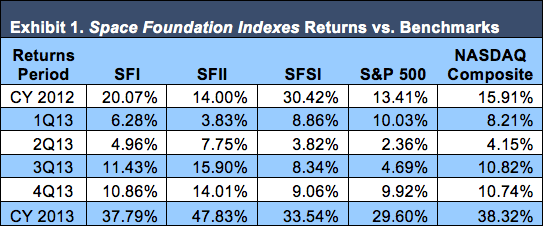 Key movers in the fourth quarter of 2013:
Globalstar continued its incredible rise with more than 80 percent quarterly growth. The stock continued to be buoyed by news that the FCC will consider the company's request to allow Globalstar satellite spectrum to be used for future terrestrial mobile services.
Digitalglobe was up 31 percent for the quarter as a result of earnings results that exceeded analyst expectations.
DISH Network Corp. was up 29 percent as profits beat estimates and the company experienced a rebound in subscribers for pay-TV services.
Continuing a trend, Comtech Telecommunications announced quarterly profit that beat expectations, sending its stock up almost 27 percent.
ATK has experienced steadily strong performance over the second half of 2013 and finished the 4th quarter up 24 percent over the prior quarter.
Exelis, Orbcomm and EADS all enjoyed growth in the 20 percent range as part of the across-the-board positive infrastructure company stock performance for the quarter.
In December, Globecomm was acquired by a financial group led by Wasserstein & Co. As a result, Globecomm's shares are no longer publicly traded and have been removed from the Space Foundation Indexes.
Sirius was down 11 percent, the poorest performing stock for the quarter. After peaking at a six-year high in October, the stock was doubly impacted by disappointing quarterly results and revenue guidance for 2014 below analysts' estimates.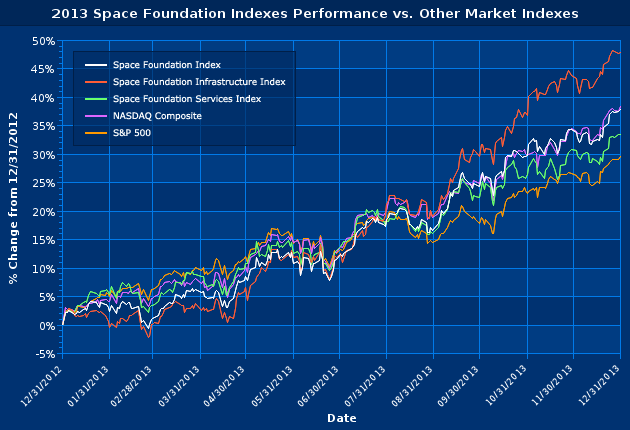 This article is part of Space Watch: February 2014 (Volume: 13, Issue: 2).
---
Posted in Spotlight