Space Certification Program
---
Emisshield, Inc., is Certified Space Technology™
Written by: developer
Emisshield, Inc., is the most recent Space Foundation Certified Space Technology™ Partner.

Located in Blacksburg, Va., Emisshield, Inc., was founded in 1999 as Wessex and changed its name to Emisshield in 2010. As a privately-held company, Emisshield holds six patents related to unique products. Emisshield is a thin film, ceramic nanoparticle material with high emissivity and heat re-radiation capabilities. The core technology of Emisshield was developed by NASA to be used as the heat shield for the X-33 and X-34 Space Planes. After a license for the technology was secured from NASA, intense efforts by the Virginia Tech's Center for Adhesion and Sealant Sciences, combined with extensive research and development, resulted in 30 plus Emisshield products ready for sale in today's market.

Emisshield products optimize heat applications by changing basic system physics and enabling positive improvements in any combustion or energy transfer. This technology can be used on existing or new materials utilized in all combustion processes including metals, refractory, ceramics and high technology fabrics including Trizar marketed and distributed by Clean Textile Technology. The optimization provided by Emisshield can provide significant improvement in most energy consuming, producing, or related heat systems. According to the company, performance improvements accomplished in field applications have been dramatic:
Up to 15 percent energy savings
Up to 15 percent production increases
More uniform heating
Prolonged substrate life
Reduced downtime for maintenance
Improved air emissions
For more information on Emisshield, please go to www.emisshield.com.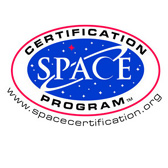 About Space Certification
Products and services that display the Space Certification seal are guaranteed to have stemmed from, or been dramatically improved by, technologies originally developed for space exploration or to have significant impact in teaching people about the value of space utilization.
This article is part of Space Watch: July 2014 (Volume: 13, Issue: 7).
---
Posted in Space Certification Program