Education
---
Discovery Center Launches Monthly Homeschool Days and STEM-themed Space Story Time
Written by: developer
As the region's only space, science and technology attraction, the Space Foundation Discovery Center in Colorado Springs is an ideal resource for homeschool students, and beginning Nov. 12, the Discovery Center will offer monthly programs specifically for homeschoolers.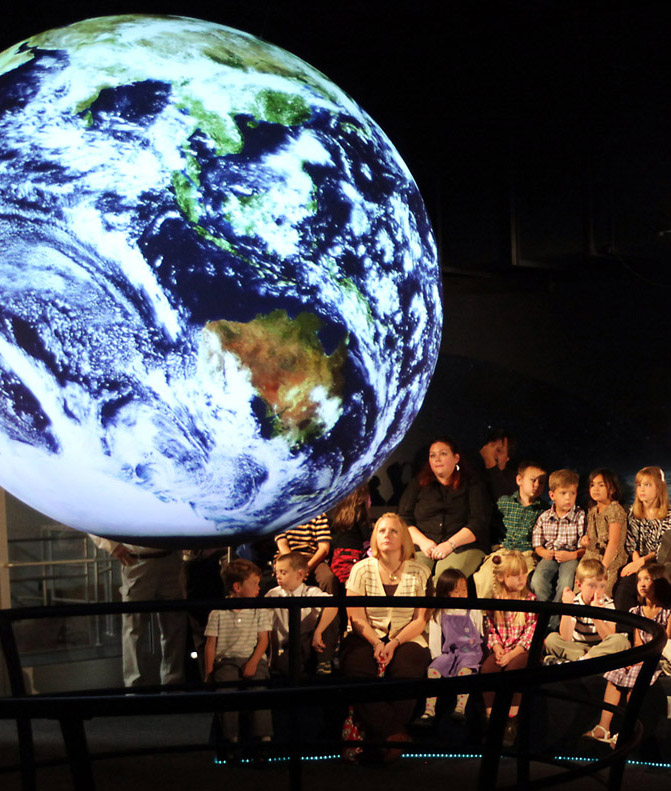 Homeschool Day at the Discovery Center will include hands-on science activities linked to learning about space travel and the universe in our Lockheed Martin Space Education Center. In our Northrop Grumman Science Center, presentations on Science On a Sphere® will explore our solar system and Earth systems.
In the EL Pomar Space Gallery, view artifacts and models depicting the story of historic and future space exploration. Activities are included in general admission to the Discovery Center.
Homeschool Day will be offered one day each month, with new themes and activities designed to engage learners on all levels. The next homeschool day will be held on Friday, Dec. 12. These activities are a great way to meet other homeschoolers in the area and help enrich your child's learning experience.
Space Story Time
Join us Thursday mornings, starting in November, in the Space Foundation Discovery Center's Area 51 for Space Story Time, the region's only STEM-focused preschool story program. The program is designed to spark interest in science, technology, engineering and mathematics (STEM) in very young learners.
Our space storyteller will share educational books appropriate for toddlers through Pre-K. Stay after the story for hands-on learning activities perfect for future astronauts and tiny scientists. Space Story Time is included in the regular daily admission to the Discovery Center.
About the Discovery Center
The Discovery Center is open to the public Tuesday through Saturday, 10:00 a.m. - 5:00 p.m. at 4425 Arrowswest Drive in Colorado Springs, just off of Garden of the Gods Road.
The Discovery Center is home to the Space Foundation's collection of space artifacts. Our "Launch to the Moon" exhibit chronicles the 1959-1976 United States and Soviet Union space race, with focus on the goal to be the first to the moon.
Discovery Center daily admission fees are $10 for adults, $7.50 for seniors (age 65+), $7.50 for college students with I.D., $4.50 for children ages 4-17. Children age three years and younger are admitted free. Military fees are $5.00 for adults with I.D., and $4.00 for military children ages 4-17 with I.D. Military includes active duty, guard, reserve or retiree with I.D.
Special "Star Days" are held one Saturday each month at the Discovery Center, 10:00 a.m. - 5:00 p.m., with a new space theme each month. Activities are appropriate for all ages, and admission savings are available through the Discovery Center Passport program. For more information, visit www.spacefoundation.org/museum, or call the Space Foundation at 719.576.8000.
This article is part of Space Watch: November 2014 (Volume: 13, Issue: 11).
---
Posted in Education