Spotlight
---
Advocating Space Technologies and Promoting STEM as Miss Earth Colorado
Written by: developer
by Megan Owen, Space Foundation Manager – Speakers & Programs
Back in 2009, a silly boy broke my heart, told me I would never be smart enough to work in the space industry, wasn't pretty and was all around a bore. Ouch. I decided to enter in a pageant just to prove him wrong, but I had no idea that that choice would really shape who I would become.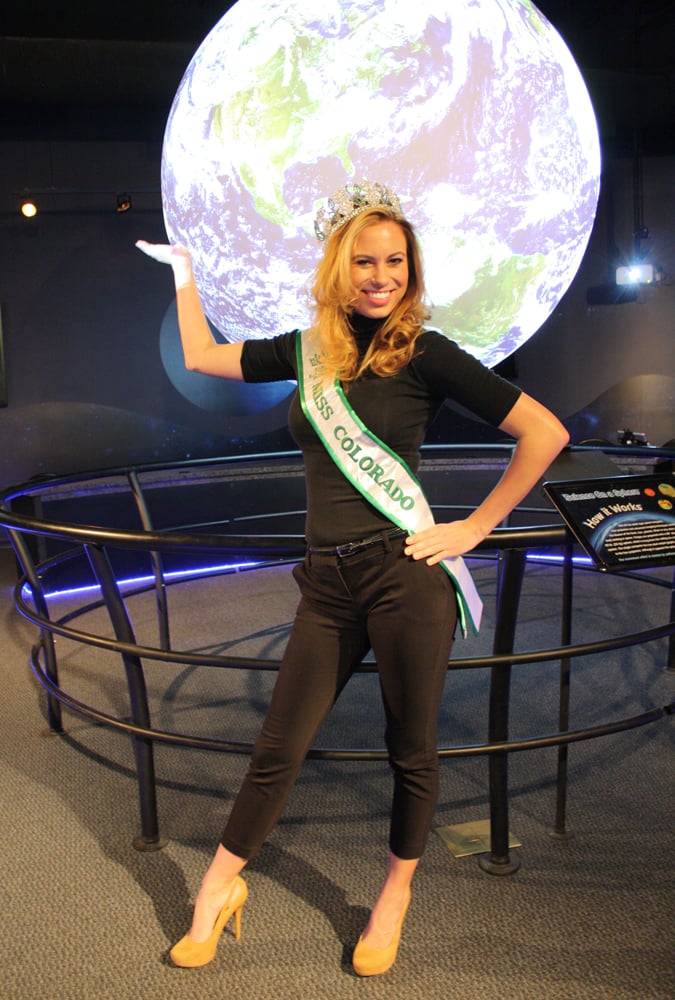 After my first experience competing for Miss Iowa USA 2010, I realized there was so much more than just standing on a stage in a pretty dress and smiling. Pageants create an incredible network for women who truly do support each other. You learn how to present yourself through confident and open body language, articulate your thoughts well in a multi-person interview panel, how to address the public through an on-stage question and you discipline yourself for a healthy lifestyle through good nutrition and regular fitness activities. And perhaps most importantly, you learn how to accept failure and rejection gracefully while celebrating someone else's success. Unfortunately for me, at Miss Iowa USA 2010 I had no idea what I was doing — let alone how to put on false eyelashes — so I did not place as a semifinalist.

After moving to Florida, I decided to give pageants another shot. I had finished my education — B.S. in geology with a focus in hydrogeology — and I knew what I stood for. I felt very comfortable addressing crowds both large and small. I decided to compete in Miss Space Coast USA which was a preliminary pageant for Miss Florida USA. My platform was encouraging young minds (particularly females) to get involved with STEM programs because I had a background in teaching robotics to international middle school and high school students. I was second runner-up for Miss Space Coast USA and received extremely high remarks on my interview portion.

Much to my surprise, I received a phone call from the Miss Earth national director in November 2015. He asked if I would be interested in representing Colorado and I said yes. The process involved scheduling an interview, submitting an application and my CV, then I was notified that I was unanimously selected to be Miss Earth Colorado 2016.
Truthfully, I didn't know as much about the Earth pageant system as the USA system, but what I really like about the Earth system is its motto, "Beauties with a Purpose." The premise behind Miss Earth is to enable young women to have a voice in raising awareness about environmental and sustainability issues, including anything from tips on how to live a green lifestyle, activism through partnering with the National Parks or just promoting environmental awareness.

I see my role as Miss Earth Colorado as an opportunity to use a large social following to promote what I am passionate about — space. I truly love anything and everything space-related. I had a difficult time at first trying to figure out how to connect my passion to the purpose of the Miss Earth system of environmental awareness and sustainability. But then I realized there are so many technologies that have come from space exploration that are now used for consumer goods that are green, and so much climate and environmental research is done through space technology (satellites) that there is a huge connection! I decided that my platform is to educate the public about how space technology has allowed modern technology to perform and create consumer goods that are environmentally beneficial, and to be a positive influence for young minds (particularly female), inspiring them to get excited about the STEM world. I'm all about getting our behinds to Mars, but my grandmother is rather fond of Minnesota and I would like to make sure her home planet stays lush and healthy.

I want to use this year to showcase how a variety of companies have used space technology to create a more sustainable world, such as reusable rocket engines, reducing orbital and oceanic debris. There's a company that has created incredibly porous concrete that allows rain water and runoff to flow through it to prevent minor flooding down the watershed and droughts in the local area. A filtration system created for astronauts is now widely used in third world areas in the form of a straw to help the local population drink available water without getting sick. There is seismic technology that can be used to single out a human heartbeat in a pile of rubble after a natural disaster. The list gos on and on with space technology that has helped humans live better lives and helps protect our planet.
So far, I have created a partnership with the Colorado Education Initiative and will be meeting with their director in mid-January to see how I can be involved. I've also created a Facebook page (Miss Colorado Earth 2016), and started a "Woman of the Week" program that will showcase successful women in the STEM/medical/humanitarian fields, policy leaders and others who can be positive role models for young minds. I look forward to the opportunities ahead in this exciting new role and if you would like to nominate a Woman of the Week, share your technology, or share how you are involved with getting young minds excited in the STEM world, please feel free to contact me at [email protected].

This article is part of Space Watch: January 2016 (Volume: 15, Issue: 1).
---
Posted in Spotlight