Education
---
Flight Night Brings Space in the Community to Tulsa-area Schools
Written by: developer
More than 5,000 children in Tulsa-area schools learned first-hand about the excitement of space when former NASA astronaut and Space Shuttle pilot Paul Lockhart visited their schools in May. Lockhart's presentations reinforced the message that STEM education – science, technology, engineering and math – can lead to exciting careers.
"This special week-long focus on space exploration encourages student enthusiasm for STEM careers," Flight Night co-chairman Bailey J. Siegfried said. "To reach space, you first have to get off the ground. In terms of pursing STEM studies, our kids can't 'get off the ground' unless they are aware of what's possible, believe they can succeed and are inspired to try."
The event combined Tulsa's existing Flight Night with the Space Foundation's new Space in the Community program, which brings former NASA astronauts into a community for presentations to students and the public. The Space Foundation's education team leads students through hands-on activities to reinforce the STEM education message. In Tulsa, the students learned basic principles of flight by making and launching straw rockets, and very young students learned basic scientific observation by making and handling bubbles (pictured). The activity also taught them the difference between rocky and gas planets. The students learned the importance of weather and wind in relation to flight, and made simple anemometers for the lesson on weather.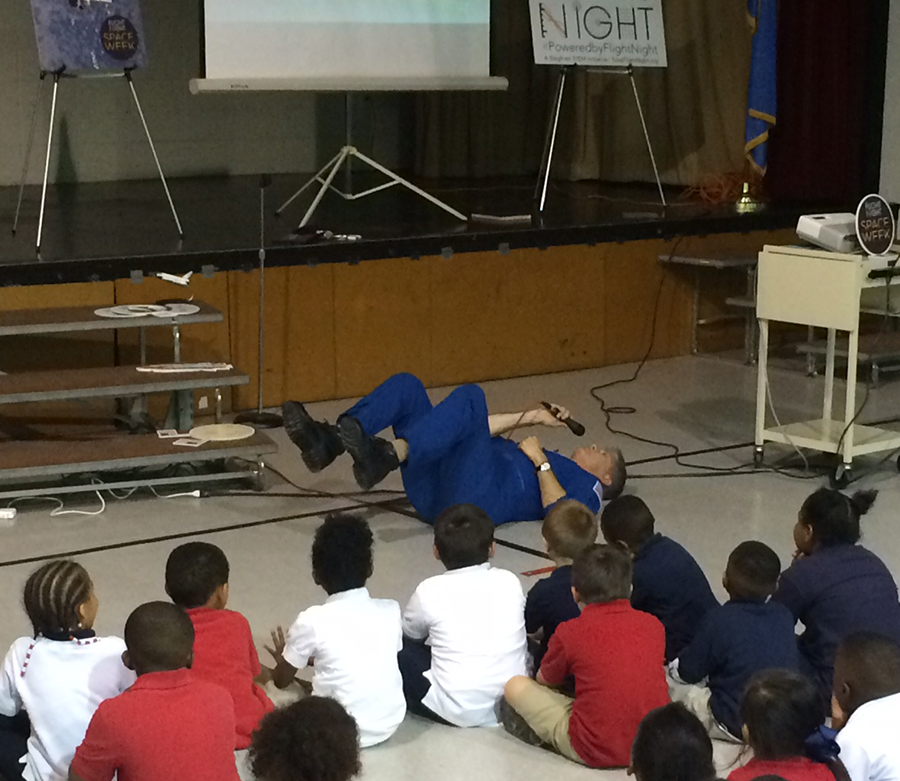 Lockhart's presentations included a slide show, and he also demonstrated for the students the experience of being in space, such as showing the children the launch position of astronauts on take-off (pictured).
In Tulsa, the free community presentation part of the event included a "Passport to the Universe" planetarium show and a panel discussion focusing on the future of space exploration and how the space program has improved life on Earth through technological advancement. Panelists included:
Bryan DeBates, M.Ed., Senior Director – Education, Space Foundation (moderator)
Paul Lockhart, Chief of Research for PEMDAS Technologies & Innovations
Lane Matheson, former engineering subcontractor to NASA on the International Space Station project and current teacher of engineering robotics, AP calculus, AP physics and electronic robots at Tulsa's Memorial High School
Donna Shirley, former manager of the Mars Exploration Program at NASA's Jet Propulsion Laboratory in Pasadena, Calif.
The final piece of the program on Saturday was professional development for 25 of the teachers, led by the Space Foundation education team.
Sponsorship was provided by Flight Night and Tulsa Regional STEM Alliance.
About Space in the Community
The Space Foundation's Space in the Community program was created to support a community approach to inspiring students' interest in STEM education, and to help all members of a community discover how interest in space can bring the community together. Space in the Community incorporates the Space Foundation's Audience with an Astronaut™ education program, featuring former NASA astronauts giving presentations that explain how science, technology, engineering and math are applied in space. The program also includes classroom, hands-on activities for students, as well as community events, and can be customized to meet the needs and interest of a particular community.
Learn more about how to schedule a Space in the Community, and about other Space Foundation STEM education programs, here.
This article is part of Space Watch: June 2016 (Volume: 15, Issue: 6).
---
Posted in Education