Global Space
---
International Art Contest Inspires Thousands of Students Worldwide to Envision the Possibilities of Space
Written by: developer
In 2010, artist Nancy Reed was hired by the Space Foundation for the new position of Director – Marketing. As an artist, Reed saw children's love of art as a way for them to use imagination to envision space in their lives and in their future.
What started in 2011 as a modest art contest with 150 entries, mostly from the Space Foundation's home state of Colorado, quickly grew under Reed's direction into an international contest with more than 7,000 entries from 50 countries.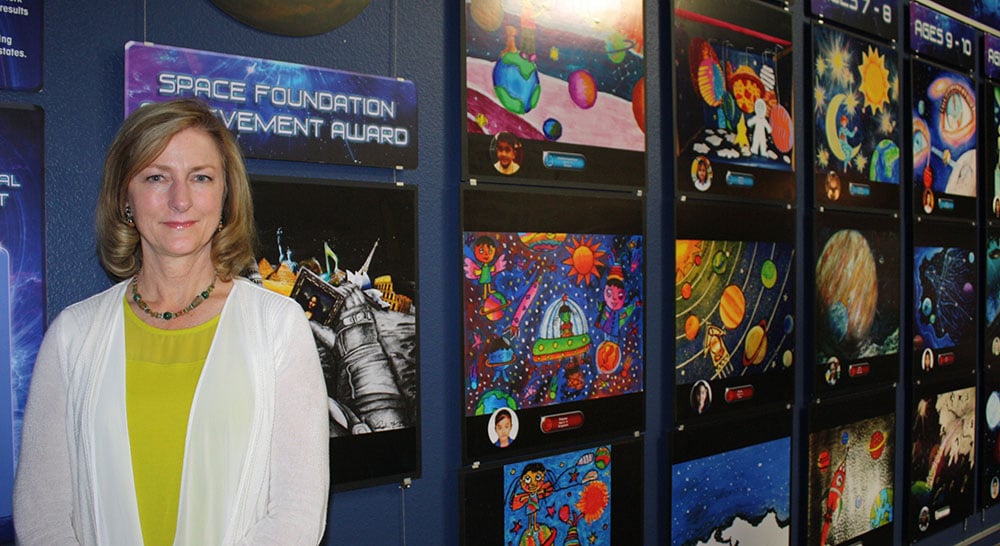 "I have greatly enjoyed personally viewing thousands of inspired contest entries over the years, " said Reed (pictured). "I treasure my gained insight — that young artists' creativity, desire to win and their view of space is universal throughout the world and transcends world politics, conflict and differing ideologies — a wonderful thing indeed!"
The annual art contest opens in August, with a call for entries, which are accepted until November. Each year, there is a featured theme, multiple age categories for students and various types of media categories, such as crayon, pastel, paint, water color, pencil and digital design.
The Space Foundation uses a multi-tiered judging process to make the final selections. Four to six judges are selected each year for their expertise in the areas of children's art, commercial art, fine art and space art.
Winning entries are announced in January, and each winner receives a certificate, ribbon, an art kit and a pair of Eagle Eyes® sunglasses from the contest sponsor. Winning artwork is featured in press releases, on the Space Foundation website, on a wall display at the Space Foundation's annual Space Symposium, held each spring at The Broadmoor in Colorado Springs, Colo., and on a wall display at the Space Foundation World Headquarters and Discovery Center in Colorado Springs.
The contest has received wide recognition in the media, and twice was featured in Japan's Terraheart program, when a DVD loaded with images of the winning artwork was sent to the International Space Station. Two images of winning artwork were bounced off the Moon as part of the OPTICKS project, managed by Astronomers Without Borders, located in Holland, using a radio telescope.
For 2017, the art contest theme is "Space Through My Eyes…," and is co-sponsored by Eagle Eyes®. Entries will be accepted until Nov. 14, 2016. For information about entering the 2017 Space Foundation International Student Art Contest, click here.
The public may see the winning artwork displayed year round at the Space Foundation's Discovery Center. Learn more about visiting the Discovery Center here.
This article is part of Space Watch: September 2016 (Volume: 15, Issue: 9).
---
Posted in Global Space