Global Space
---
Space to Become 'Most Vital Domain' For National Security, Say Defense Leaders in New KPMG/Space Foundation Report
Written by: Space Foundation Editorial Team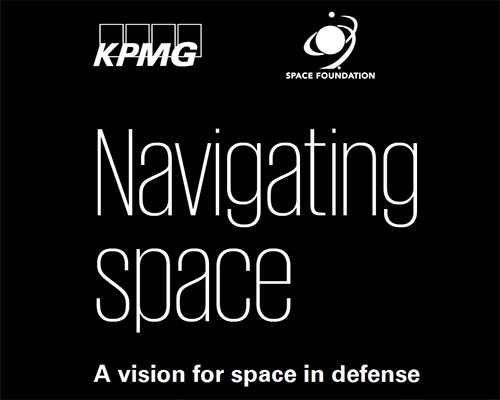 Content based on interviews with nearly two dozen industry and defense leaders
Report determines that space domain partnerships are central to national security
Countries are realigning defense organizations to recognize the importance of space
COLORADO SPRINGS, Colo. — Aug. 17, 2021 — Space Foundation, a nonprofit advocate organization founded in 1983 for the global space ecosystem, in partnership with KPMG International, today released a new report exploring how space will define the future of national security. The report "Navigating Space: A Vision for Space in Defense," finds that space will likely define the future of national security and as the pace of innovation quickens, defense organizations see space domain partnerships as central to their national security.
"The space domain is becoming more congested and contested. New technologies are rapidly emerging. Barriers to entry are falling. New players — both governmental and commercial — are vying for advantage. Humanity's reliance on space activity is becoming more ingrained every day," said Grant McDonald, Global Head Aerospace and Defence, KPMG. "Once supreme in the space domain, the defense sector is being forced to reassess the role they play in this increasingly critical domain."
Thomas Dorame, Senior Vice President for Symposium 365 Division at Space Foundation added, "The report details the evolution of interdependency and the collaboration necessary to provide for our national and economic security. Without effective planning and partnerships, individual nations and their allies will experience tremendous consequences."
Based on interviews with nearly two dozen industry and defense leaders at the highest levels of the space domain, the report offers predictions on how the sector is positioned to evolve – identifying important new capabilities, commercial opportunities, partnership initiatives and sovereignty considerations that will likely arise along the way — as well as key takeaways and practical advice for space domain participants.
In one of the report's interviews, Gen. John W. "Jay" Raymond, Chief of Space Operations, U.S. Space Force, describes, "In the long term, I believe space is going to become the most vital domain for national security, surpassing air, land and sea."
A New Look at Space
While the military has arguably been leading space exploration since its inception, this report finds that the hegemony of a handful of military departments over the space domain is being eroded. A growing number of countries are realigning their defense organizations to recognize the importance of space. Non-governmental organizations are also crowding the domain, and that is changing the focus for many military players.
The report offers four high-level predictions on the likely future of defense in space:
Space will define the future of national security
The pace of innovation will continue to quicken
Partnerships will be crucial to long-term success
Alignment on norms will unlock advancement
In particular, the report finds that the world has entered a period where the rules of the road must be defined if nations want to ensure the longevity of human habitation and operation in space.
Jacob Hacker, Space Industry Lead, KPMG added, "Achieving broad consensus around global norms of behavior and policy may be critical to humanity's ability to achieve benefits from the space domain."
"We have to behave as a global community to think about sustainability in space and concerns such as debris," noted Rick Ambrose, Executive Vice President, Lockheed Martin Space in the report. "The international community and international law need to come together in many ways."
A Global View of Space
The report includes highlights of interviews with many of the world's top space and defense leaders in both government and industry including:
Gen. John W. "Jay" Raymond, Chief of Space Operations, U.S. Space Force
Air Vice Marshal Harvey Smyth, CB, OBE, DFC, Director Space, UK Ministry of Defence
Major General Michael Friedling, Commander, French Space Command
Air Commodore Phil Gordon, Director General Air Defence and Space, Australian Defence Force
Thagoon Kirdkao, Director of Space Affairs Division, Royal Thai Air Force
Kari Bingen, Chief Strategy Officer, HawkEye 360, and former US Deputy Under Secretary of Defense for Intelligence and Security
Rick Ambrose, Executive Vice President, Lockheed Martin Space
Mandy Vaughn, CEO, GXO Inc and former CEO, VOX Space LLC
Victoria Samson, Washington Office Director, Secure World Foundation
Charity Weeden, Vice President, Global Space Policy and Government Relations, Astroscale
Partnerships Are Key
Ultimately, this paper finds that while the domain is evolving at a rapid pace with rising competition and potential for risk, the path to sustainable space operations and human habitation lies in partnership and cooperation. "It is more important than ever for stakeholders to continue to ensure humanity's safety in space and on Earth," added Jim Adams, Principal, KPMG.
To receive the full report, please visit https://home.kpmg/xx/en/home/insights/2021/08/navigating-space-a-vision-for-space-in-defense.html
The full report is also available from Space Foundation at https://www.spacefoundation.org/wp-content/uploads/2021/08/Navigating-Space_web-20210816.pdf
###
About KPMG International
KPMG is a global organization of independent professional services firms providing Audit, Tax and Advisory services. They operate in 146 countries and territories and in FY20 had close to 227,000 people working in member firms around the world. Each KPMG firm is a legally distinct and separate entity and describes itself as such. KPMG International Limited is a private English company limited by guarantee. KPMG International Limited and its related entities do not provide services to clients.
About Space Foundation
Space Foundation is a nonprofit advocate organization founded in 1983, offering a gateway to education, information and collaboration for space exploration and space-inspired industries that define the global space ecosystem. Driven by a partnership model, Space Foundation operates three divisions that unite the entire spectrum of stakeholders — business, government, education and local communities — through corporate membership, sponsorship, fundraising and grants: Center for Innovation and Education is a lifelong learning platform. Symposium 365 is the premier source for media and events, including the world-renowned Space Symposium. Global Alliance facilitates collaboration around the world. Visit Space Foundation at www.SpaceFoundation.org, and follow us on Facebook, Twitter, Instagram, LinkedIn and YouTube.
All brand names and product names are trademarks or registered trademarks of their respective companies.
Tags: Space Foundation, KPMG International, Symposium 365 Division, space innovation, space ecosystem, space defense, national security, space domain
Media Contacts:
Brian O'Neill
External Communications, Senior Manager
KPMG International
+44 131 5276958
[email protected]
Ash Pritchard
KPMG Australia Corporate Affairs
+61 411 020 680
[email protected]
Rich Cooper
Vice President, Strategic Communications & Outreach
Space Foundation
(202) 596-0714
[email protected]
Dottie O'Rourke
TECHMarket Communications
(650) 344-1620
[email protected]
---
Posted in Global Space