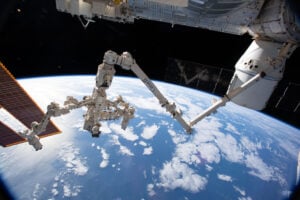 Inducted individuals:
Dr. Garnette Sutherland
Inducted organizations:
Canadian Space Agency
MacDonald, Dettwiler and Associates Ltd.
IMRIS
In 1969, NASA invited Canada to participate in the space shuttle program. A request for proposals for a Shuttle Remote Manipulator System (SRMS) resulted in a proposal led by Spar Aerospace – now MacDonald Dettwiler and Associates (MDA) and which included CAE Electronics, RCA Canada and Dilworth, Secord, Meagher and Associates.
With Canadian government support, the National Research Council of Canada began studies on a manipulator system and in 1975 Canada and NASA launched a $110 million development program.
The first SRMS or Canadarm system was donated to NASA and was followed by four additional systems accomplishing over 90 robotic missions.
Redesign and improvement efforts led to the next generation Canadarm2, purpose built to construct the International Space Station
In 2001, Endeavour delivered Canadarm2 to ISS beginning a success legacy that to date has moved hundreds of tons of supplies, equipment and astronauts in support of nearly 100 spacewalks. This was followed by the advanced two armed Special Purpose Dexterous Manipulator – 'Dextre' which performs maintenance, repairs and serves as a robotics concept test bed.
Following this success MDA was approached by Dr. Garnette Sutherland of the University of Calgary and Alberta Health Services in search of partners to help develop 'NeuroArm', an image-guided MR-compatible robot for microsurgery and stereotaxy. The result was a space robotics spin-off combining precision robotics with the capacity of the human mind, providing surgeons with near real time visibility of the brain and the surgical tools in relationship.
On May 12, 2008, a Foothills Medical Centre team completed the first image-guided neurosurgical procedure performed with a robot with the neurosurgeon manipulating NeuroArm from an adjacent control room.
Today, IMRIS is creating the next generation of NeuroArm known as Symbis and another inspiring chapter of Space Technology benefitting life on Earth.
Related Technologies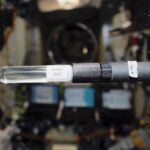 Inducted In: Featured, Health, Public Safety
Canada's Bubble Technology Industries (BTI) created the Bubble Detector to detect and record levels of neutron radiation exposure to humans. The detector is a small vial about the size of your thumb. It is small enough and portable enough to…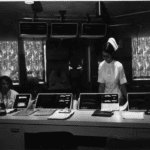 Inducted In: Featured, Health, Medicine
Founded in 1958, Spacelabs Healthcare approached NASA with their concept of a real-time system for monitoring astronauts' vital signs while in orbit, including a telemetry system to simultaneously transmit the data back to Earth. From 1962 to 1967, Spacelabs was…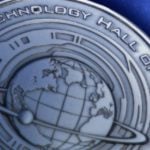 A family of biomedical implantable devices have been developed over the past decade which are based on a wide array of space technologies, including battery advances, miniaturized circuitry, digital telemetry, and electronic sensing systems. The initial device was the rechargeable…