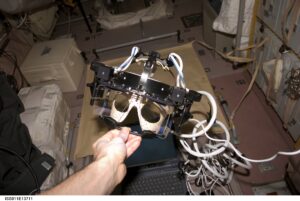 Inducted individuals:
Dr. Friedrich-J. Baartz
Dr. Andrew H. Clarke
Inducted organizations:
Chronos Vision
German Aerospace Center (DLR)
In the late 1990's, NASA approached the German Space Agency (DLR) to develop technology to measure the precise eye movements of astronauts aboard the Space Shuttle.
A program called the "Life Sciences Working Group" was created and housed in DLR's Division of Manned Spaceflight.
DLR approached physicist Dr. Friedrich Baartz to apply his expertise in this area. Dr. Baartz teamed with Dr. Andrew Clarke – a professor in the Charité Medical School in Berlin – to take advantage of his experience in vestibular research and study of eye movements.
Applying funding from DLR, Dr. Baartz and his team created the commercial venture Chronos Vision to create the desired eye tracking system for DLR. In 2004, the first Eye Tracking Device developed by Chronos Vision flew aboard the Soyuz TMA-4 mission to the International Space Station.
Building on this successful space application, Chronos Vision teamed with what is now Novartis to integrate the technology into a refractive eye surgery device. Nearly 2,000 of the devices have been implemented around the world.
Today, Chronos Vision is working on establishing new commercial partners to expand applications and sales of the eye-tracking device.
Related Technologies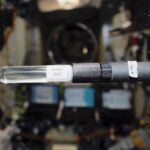 Inducted In: Featured, Health, Public Safety
Canada's Bubble Technology Industries (BTI) created the Bubble Detector to detect and record levels of neutron radiation exposure to humans. The detector is a small vial about the size of your thumb. It is small enough and portable enough to…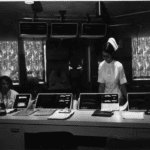 Inducted In: Featured, Health, Medicine
Founded in 1958, Spacelabs Healthcare approached NASA with their concept of a real-time system for monitoring astronauts' vital signs while in orbit, including a telemetry system to simultaneously transmit the data back to Earth. From 1962 to 1967, Spacelabs was…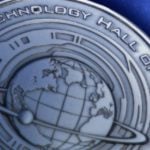 A family of biomedical implantable devices have been developed over the past decade which are based on a wide array of space technologies, including battery advances, miniaturized circuitry, digital telemetry, and electronic sensing systems. The initial device was the rechargeable…