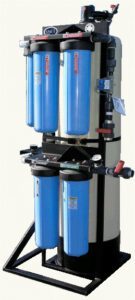 Inducted individuals:
Gerald Colombo
Ray Doane
Dr. Roger Johnson
Dr. David Major Ph.D.
Ken Kearney
David Putnam,
Richard Sauer
Inducted organizations:
NASA Johnson Space Center
Umpqua Research Corporation
Water Security Corporation
When NASA needed advanced water purification for the Shuttle Orbiter they turned to Umpqua Research. The resulting Microbial Check Valve or MCV system continued to treat Shuttle water sources with a patented iodinated resin system providing both contact microbial kill and residual iodine to supply astronauts with safe drinking water.
Looking to the International Space Station and long-duration space flights, Umpqua surpassed the original technology with the MCV Biocide Delivery Unit. This long-term, slow release iodine-based disinfection system is now in use aboard the ISS. Water Security Corporation now applies MCV technology to eliminate bacteria and viruses in contaminated water here on Earth.
A patented ion exchange resin feature – Iodosorb – has been added to remove virtually all residual iodine from the treated water making iodine-based disinfection a practical solution for a range commercial and consumer markets.
Working with humanitarian and other organizations, Water Security Corporation is providing these systems to developing countries where drinking water is a major health concern. Recipients include earthquake refugees in Pakistan, Kurdish villagers in northern Iraq, and the people of rural Sabana San Juan, Dominican Republic.
Over 1 billion people lack access to safe drinking water and over 10 million die each year of water bourne diseases. Today Microbial Check Valve space technology is helping provide safe drinking water the people who need it most right here on Earth.
Related Technologies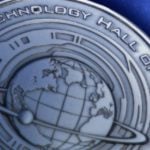 Inducted In: Environmental and Resource Management
For more than a decade, NASA's laboratories conducted research on the use of water hyacinths for treating and recycling wastewater for application in space colonies and long duration manned space flights of the future. Researchers discovered that water hyacinths thrive…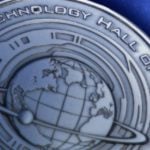 Inducted In: Environmental and Resource Management
In the late 1960s, NASA's Johnson Space Center went searching for a lightweight, non-combustible fabric durable and strong enough to protect the astronauts in an alien, zero-gravity environment. One American company, Chemical Fabrics, a specialty weaver and coater, was already…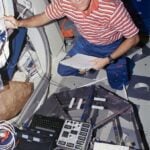 Inducted In: Environmental and Resource Management
In the early days of NASA's space research, there was concern over problems of temperature control of non-rotating satellites. The side facing the sun would build up excessive heat, and the opposite side would become very cold, thus a serious…