Report from Washington, D.C.
---
Space Foundation Discusses A Day Without Space
Written by: developer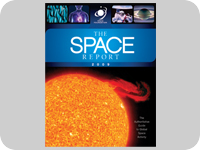 Space Foundation Research Analyst Micah Walter-Range participated as a panelist in the A Day Without Space: Economic Security Ramifications conference hosted by the George Marshall Institute and the Space Enterprise Council of TechAmerica on July 28 in Washington, D.C.
Dr. Scott Pace¸ director of the Space Policy Institute and professor of practice in International Affairs at George Washington University's Elliott School of International Affairs, delivered the conference keynote on the space industry's positive impact on the economy.
Pace was followed by Walter-Range's panel, The Economic Impact of Space-Based Assets, which also included Andrea Maleter, Technical Director of Futron, a decision management and market intelligence firm located in the Washington, D.C., area. Walter-Range presented a global overview of the space industry, based on the Space Foundation's The Space Report 2009: The Authoritative Guide to Global Space Activity. Maleter discussed the satellite component of the market, using information from the Satellite Industry Association's annual report. Among the topics Walter-Range and Maleter discussed were: the role of new, private space companies and spaceports; the potential impact of space debris or space conflict; the benefits of second-order effects; and the space employment outlook.
An additional panel, How Business Uses Space, featured Charles Baker, acting director of the Department of Commerce's Office of Space Commercialization, and Daniel Hurley, acting chief of the Department of Commerce's National Telecommunications and Information Administration Emergency Planning and and Public Safety Division.
 
This article is part of Space Watch: August 2009 (Volume: 8, Issue: 8).
---
Posted in Report from Washington, D.C.