Report from Washington, D.C.
---
Space Foundation Adds Government Affairs Associate
Written by: developer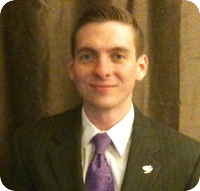 Tommy Sanford has joined the Space Foundation as a government affairs associate, working out of the Washington, D.C., office. 
Sanford has held internships with the House of Representatives Space & Aeronautics Subcommittee and the Department of Commerce's Office of Space Commercialization.
"I'm a strong believer in opportunities in space improving life on Earth," said Sanford.
In 2007, he graduated from Appalachian State University, Boone, N.C., with a bachelor's degree in political science. In his new position, Sanford is responsible for a broad range of activities associated with the Space Foundation's Washington, D.C., operations, including working with constituents and planning special events and programs. Sanford reports to Brendan Curry, vice president – Washington, D.C., operations and government affairs.
 
This article is part of Space Watch: October 2009 (Volume: 8, Issue: 10).
---
Posted in Report from Washington, D.C.