Report from Washington, D.C.
---
Space Benefits Transportation and Logistics
Written by: developer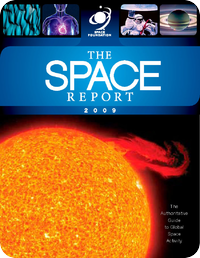 Space products and services, such as positioning systems and satellite communications, are widely used in the transportation, logistics, and manufacturing industries. Some examples, excerpted from the Space Foundation's The Space Report 2009: The Authoritative Guide to Global Space Activity are:
Reducing crew workload in the maritime shipping industry through cellular, multimedia, and Internet access
Automatically tracking satellite communication beams as a vessel moves across the sea, greatly reducing equipment costs and space required compared to older ground-based systems
Using secure virtual private networks to convert ships into mobile offices
Using radio-frequency identification (RFID) and satellite communications to track shipping containers and their contents, with the ability to detect damage and order replacements before the ship even makes port and the container is unloaded
Locating mail and determining how long it spends in one place using a letter-sized global positioning system (GPS) device that can easily pass through postal sorting machines, is inconspicuous within a standard business envelope, and that produces data the user can view with Google Earth, allowing officials to identify and locate delayed deliveries
Creating an on-demand public bus service by using satellites to automatically reroute buses in response to rider requests, reducing costs and improving coverage and availability
Using GPS signals to guide spacecraft to the International Space Station (ISS), improving the safety of in-space maneuvers, and helping to ensure the well-being of astronauts and equipment
Using vertical take-off and landing vehicles with quick turnaround times for commercial space launches
Using robotics to autonomously service a range of spacecraft in orbit, including geostationary military and commercial communication satellites
Using spacecraft design concepts to reduce drag on cars and trucks, saving fuel and reducing costs
This – and much more – information about space and how space affects life on Earth can be found in The Space Report 2009: The Authoritative Guide to Global Space Activity. To order a copy in book, PDF, or CD format, click here.
This article is part of Space Watch: December 2009 (Volume: 8, Issue: 12).
---
Posted in Report from Washington, D.C.