Report from Headquarters
---
Science Lessons Atop Pikes Peak
Written by: developer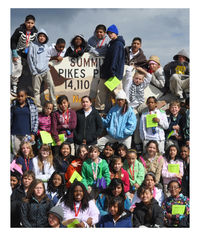 In October, Jack Swigert Aerospace Academy students visited Pikes Peak, just west of Colorado Springs, to learn more about the physiological effects of altitude on heart rate. At a height of 14,110 feet, Pikes Peak serves as an ideal altitude lab for the students to record observations about changes in ecosystems and to use scientific probes to record changes in air pressure and temperature during ascent.
The students will use this information and apply their knowledge toward designing a theoretical mission to the top of Olympus Mons, a mountain on Mars that is nearly three times the height of Mount Everest and is the tallest known volcano and mountain in our solar system.
According to Allison Reilly, Space Foundation space education specialist, who helped plan the curriculum content and attended the fieldtrip as one of the group leaders, "The sixth grade students from Jack Swigert Aerospace Academy were engaged in a descriptive study of Pikes Peak as it relates to space science. One of the goals of the field experience was to have students work together in teams while collecting data and then discuss what humans will go through when they embark on a long-duration mission to Mars."
The Jack Swigert Aerospace Academy curriculum, which is collaboratively developed by the Space Foundation and Colorado Springs School District 11, uses space and aerospace themes and principles to teach a broad range of subjects, with focus on improving students' proficiency in science, technology, engineering and mathematics (STEM).
 Pictured: Jack Swigert Aerospace Academy students atop Pikes Peak
This article is part of Space Watch: November 2010 (Volume: 9, Issue: 11).
---
Posted in Report from Headquarters