Report from Headquarters
---
New Scholarship for Pinellas County Educators
Written by: developer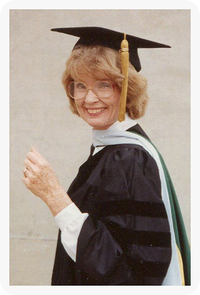 The Space Foundation announces a new scholarship specifically for educators in Pinellas County, Fla. The Dr. Catherine Pedretty Space Scholarship for Teachers was established by the Space Foundation on Dec. 8, 2010, to create special professional development opportunities for teachers currently teaching in the Pinellas County Schools, and especially for teachers at Dunedin High School in Dunedin, Fla. Funding for the Dr. Catherine Pedretty Space Scholarship for Teachers is provided by her daughter, Janet Stevens of Colorado Springs, Colo., who is the Vice President — Marketing and Communications for the Space Foundation.
About Dr. Catherine Pedretty
An avowed lifetime learner, Dr.Pedretty worked as a teacher and guidance counselor in Pinellas County Schools for 38 years and was director of guidance for Dunedin High School at the time of her retirement. Born Catherine Fraiser Partain in 1928 in Birmingham, Ala., Dr. Pedretty grew up in Chattanooga and Knoxville, Tenn. She excelled in the sciences and wanted to become a geologist, but, as was common during those times, her parents steered her away from a profession "not befitting a girl." She majored in French and Spanish at the University of Tennessee, graduating with honors in 1949, the same year she married William L. Pedretty, who had just completed his degree in electrical engineering. She became a housewife and moved with her husband to North Carolina, Texas and then to Florida.
While their four children were still young, Dr. Pedretty began working in a non-teaching job for the Pinellas County School System. She soon returned to school for her teaching certification and a master's degree in curriculum and instruction from the University of South Florida and a Ph.D. in education from Florida State University. Her favorite position was as a guidance counselor where she specialized in helping students get accepted into difficult programs and in finding scholarships for them. She was most proud of the numerous times she helped young women pursue careers in engineering and science and in the role she played in getting her students accepted into the nation's military academies.
Her husband William died in 1996, after 47 years of marriage. In 2004 she married James Gecoma, who survives her. Dr. Pedretty died in 2010 of pancreatic cancer.
About the Scholarship
The Dr. Catherine Pedretty Space Scholarship for Teachers provides a unique opportunity for the selected teacher to travel to Colorado Springs and participate in one of the Space Foundation's annual Space Across the Curriculum courses. The scholarship provides up to $2,500 spending allowance for the following: travel allowance, meal, lodging expenses, and full tuition and fees for the selected teacher to attend any one of the Space Foundation's seven, weeklong in-residence courses. The courses cover topics ranging from rocketry, robotics and astronomy to living and working in space. The courses are designed to help teachers use space themes in their classrooms to enable improved student performance in literacy, science, technology, engineering, mathematics and other subject areas. The teacher may elect to receive continuing education or graduate academic credit for the course; graduate credit may be applied toward one of several master's degrees offered by the Space Foundation and partner universities.
How to Apply
Any credentialed teacher working with students in the Pinellas County Schools district is eligible to apply. First consideration will be given to applicants currently teaching in Dunedin High School.
The applicant should first become familiar with Space Foundation Space Across the Curriculum courses by visiting www.SpaceFoundation.org/education. The application should state the applicant's qualifications and motivation for applying, experience or interest in space themes in the classroom, what the applicant hopes to gain from the experience, which course he or she would like to attend and how the knowledge gained will be applied in the classroom.
The application should be endorsed with a letter of support by a principal or other supervisor. Applications should be addressed to:
Iain Probert, Vice President, Education
Space Foundation
310 S. 14th St.
Colorado Springs, CO 80904
Applications must be received no later than April 16, 2011, for the coming summer session. The winner will be notified on or about May 3, 2011.
Pictured: Dr. Catherine Pedretty after receiving her Ph.D.
 
This article is part of Space Watch: March 2011 (Volume: 10, Issue: 3).
---
Posted in Report from Headquarters