Spotlight
---
Sheridan Notes Big Eight
Written by: developer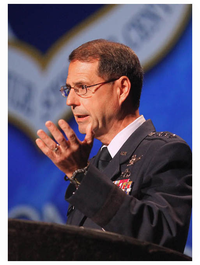 Lt. Gen. John "Tom" Sheridan, USAF, commander, Space & Missile Systems Center, Air Force Space Command, speaking at the 27th National Space Symposium outlined eight obstacles that his organization is addressing:
An increasingly contested space environment
Warfighter thirst for increased capability, including greater and higher quality of data and more control over what they receive
"Constellation fragility" – lack of ground-based satellite backup
Constrained resources
Schedule overruns
"Vanishing vendors" – consolidation resulting in more instances of single suppliers
Few and somewhat inexperienced acquisition personnel
Escalating costs in many areas
Sheridan said that an acquisition improvement program is helping in some areas, but there is still more work to be done.
He also talked briefly about the history of using space assets to support warfighters, saying that the use of weather data in Vietnam was the first tactical use of space data and that GPS is a global utility today that provides critical timing and navigation information. Sheridan said that the first Advanced Extremely High Frequency (AEHF) satellite launched from the Cape last August will ultimately replace the MilStar constellation and that the Space Based Space Surveillance (SBSS) system satellite launched last year recently finished on-orbit developmental testing and evaluation (DT&E) and is anticipated to be fully operational by June.
 
This article is part of Space Watch: May 2011 (Volume: 10, Issue: 5).
---
Posted in Spotlight