Space Foundation News
---
Space Foundation Offers Free Educator Course at CSU-Pueblo
Written by: developer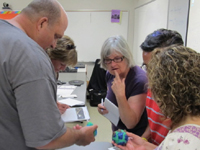 COLORADO SPRINGS, Colo. (Jun. 28, 2011) — Educators from the Pueblo, Colo., area are learning how to use space themes in the classroom to improve their students' science, technology, engineering and mathematics (STEM) interest and skills. The course is offered by the Space Foundation and held at Colorado State University (CSU)-Pueblo.
"Lunar/Mars Exploration and Base Construction" is a Space Across the Curriculum course that examines activities related to establishing and maintaining human presence on our Moon or Mars, including oxygen and energy production, growing food, waste removal and recycling and exploration of the surface. Participants are designing and building a model of a Lunar or Mars base that is theoretically sustainable and able to house astronauts for exploration of the Lunar or Martian surface. Educators will leave the course with hands-on activities that can be immediately integrated into the classroom.
Local grants totaling $37,000 made it possible for the Pueblo-area teachers enrolled in the course to attend free. The course is open to PreK-12 educators and is accredited through CSU-Pueblo Continuing Education Credit, or as part of CSU-Pueblo's new degree program, Master of Education with an emphasis in Space Studies.
Funding for the one-week course was provided by:
The Chamberlain Foundation
The R.M. Watts Foundation
The Frank I. Lamb Foundation
The E. M. Christmas Foundation
Learn more about Space Foundation education programs at: www.SpaceFoundation.org/education.
See more photos from this class here.
Pictured: Free Space Foundation educator class at CSU-Pueblo
---
Posted in Space Foundation News