Stats, Facts and Papers
---
Space Foundation Index Reveals Space Economy Cooled After Growth Periods
Written by: developer
The Space Foundation Indexes cooled off with the rest of the market in the second quarter of 2012 after two quarters of fast-paced growth. All tracked indexes were slightly down for the period. During the second quarter, the Space Foundation Index and the Space Foundation Infrastructure Index both outperformed the Space Foundation Services Index, the S&P 500 Index and the NASDAQ Composite, as can be seen in Exhibit 1.

Key movers in the second quarter of 2012:
DigitalGlobe led the way with 23 percent growth, more than recovering its first quarter losses buoyed by news that it had rejected a hostile bid by GeoEye to acquire the company in May. These overall gains survived bad news late in the quarter as the National Geospatial-Intelligence Agency warned at the end of June that it could cut funding for its EnhancedView contract with DigitalGlobe. In July, it was announced that DigitalGlobe and GeoEye had agreed to merge to form a single company that will retain the DigitalGlobe name.
ATK led the way among manufacturers with 6.2 percent growth for the quarter buoyed by solidly beating analyst earnings and sales forecasts at the end of the company's 2012 fiscal year.
Globalstar's stock plunged in May when an arbitration panel ruled in favor of Thales Alenia in their satellite manufacturing contract dispute. Globalstar lost rulings on preferential pricing and contract termination charges, but further damage was averted late in June when the companies reached a settlement that enables the continued deployment of Globalstar's second-generation satellite fleet. The stock recovered somewhat, but it was still down almost 29 percent for the quarter.
Loral had big news in June when it announced that MacDonald, Dettwiler and Associates would acquire its Space Systems/Loral subsidiary for $875 million pending regulatory approval. Despite the good news, Loral was down 25 percent for the quarter after distributing a sizable $421 million ($13.60 per share) one-time special dividend in April related to its ownership in Telesat.
Orbcomm was down 20 percent from a peak at the end of the first quarter despite reporting record results in May.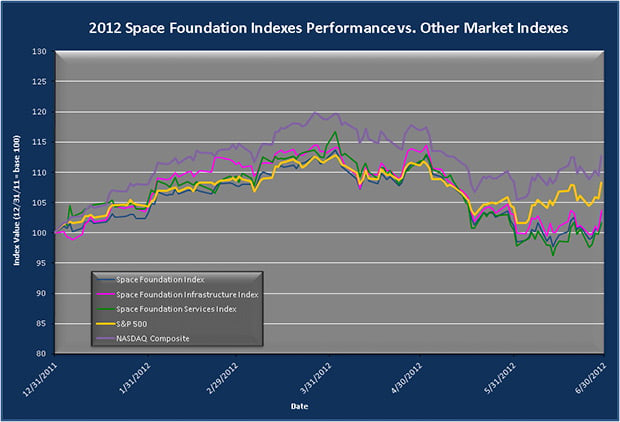 Follow the Space Foundation Indexes here.
This article is part of Space Watch: August 2012 (Volume: 11, Issue: 8).
---
Posted in Stats, Facts and Papers