Space Awareness
---
Snoopy Soars with NASA Exhibit Launches with Space Foundation Support
Written by: developer

The Space Foundation is partnering with the Colorado Springs Pioneers Museum to support a special traveling exhibit from the Charles M. Schulz Museum called To the Moon: Snoopy Soars with NASA. The exhibition, which runs Nov. 17 through April 20, examines the history of Apollo 10 and the role characters from Schulz's popular Peanuts comic strip played in that flight and in the NASA Manned Flight Awareness safety program. The Charles M. Schulz Museum is located in Santa Rosa, Calif.
The Space Foundation is supporting the exhibit by providing space spin-off products for display, graphics, an exhibit model, guest lecturers, promotional support and children's interactive activities.
Space Foundation Chief Executive Officer Elliot Pulham will give a lecture entitled Blast Off! Exploring Space with the Space Foundation on Saturday, Dec. 15, and Vice President – Marketing and Communications Janet Stevens will moderate a panel of astronauts on Saturday, Jan. 12. Both events will be at 2 p.m. at the museum, which is located in a restored 1903 courthouse at 215 South Tejon Street in Colorado Springs.
Why Peanuts?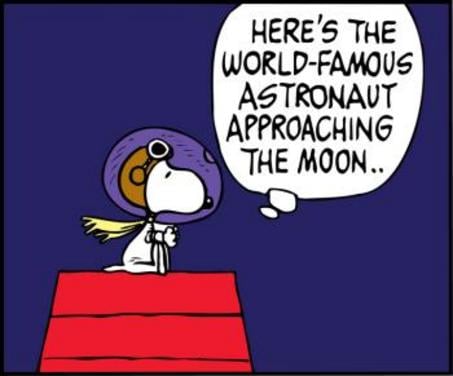 The exhibition explores the long relationship between Schulz and NASA beginning in 1968 with the inception of the Snoopy, the Astronaut program, through the flight of Apollo 10, to the present day as Snoopy continues his important role as NASA's safety mascot.
In 1969, NASA slated the Apollo 10 mission to test the lunar module in preparation for putting the first human on the Moon. Following NASA tradition, the Apollo 10 crew – Commander Thomas Stafford, Command Module Pilot John Young and Lunar Module Pilot Eugene Cernan – could choose a call sign for their spacecraft.

They named the lunar module Snoopy after Peanuts' lovable beagle because, as Stafford explained, "…we're going to the moon to find out all these facts and kind of snoop around." Stafford is pictured, right, with Snoopy.
Cernan said that he then began promoting the idea of calling the command module Charlie Brown (Snoopy's beleaguered "owner" and Peanuts' key character) by hanging that nickname on Young. Apollo 10 blasted off from Cape Kennedy in Florida Sunday, May 18, 1969. Charles Schulz later wrote that perhaps the most unusual thing that had ever happened with his characters "was the involvement of Charlie Brown and Snoopy with the Apollo 10 Lunar Expedition in 1969."
Schulz, who authored the Peanuts comic strip from 1950 until he died in 2000, had personal ties to Colorado Springs, where he lived in 1951.
Visit the Exhibit
The Colorado Springs Pioneers Museum is open Tuesday through Saturday, 10 a.m. to 5 p.m.  Admission is free. For more information – including details about special programs and activities, click here.
This article is part of Space Watch: November 2012 (Volume: 11, Issue: 11).
---
Posted in Space Awareness