Space Foundation Press Releases
---
Air Force Space Command Leader to Speak at 29th National Space Symposium
Written by: developer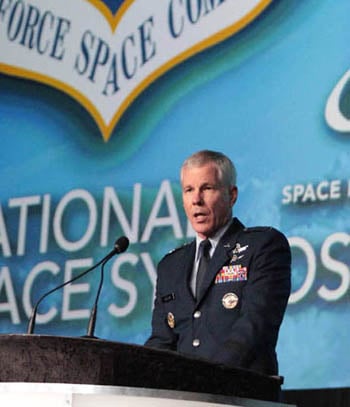 COLORADO SPRINGS, Colo.  (Nov. 5, 2012) – Gen. William L. Shelton, USAF, commander, Air Force Space Command, will be a featured speaker at the Space Foundation's 29th National Space Symposium, which is slated for April 8-11, 2013, at The Broadmoor Hotel in Colorado Springs, Colo. He joins a stellar roster of international speakers, including:
Wanda M. Austin, Ph.D., president, The Aerospace Corporation 
Craig R. Barrett, Ph.D., retired CEO/chairman of the board, Intel Corporation
Romain Bausch, president & CEO, SES 
Lt. Gen. David A Deptula, USAF, Ret., president,The Deptula Group 
Jean-Jacques Dordain, director general, The European Space Agency (ESA) 
Yannick d'Escatha, president, Centre National d'Études Spatiales (CNES) 
Gen. Howell Estes, III, USAF, Ret., president, Howell Estes & Associates, Inc.
Adm. Mark P. Fitzgerald, USN, Ret., president, Aragosto Global, LLC
Johann-Dietrich Worner, chairman, German Aerospace Center (DLR)
Speakers are continuously updated at www.NationalSpaceSymposium.org/speakers
Extraordinary Agenda
The 29th National Space Symposium will feature forums, panels, presentations, speeches, special events and ample opportunity to hear from and network with the space community's most influential leaders.
Here's a snapshot of what to expect:
Speakers representing every facet of the global space community
The Lockheed Martin Exhibit Center, featuring state-of-the-art space technology 
Presentation of Space Foundation awards, including the General James E. Hill Lifetime Space Achievement Award, the Alan Shepard Technology in Education Award, the John L. "Jack" Swigert Award for Space Exploration, the Space Achievement Award and the Douglas S. Morrow Public Outreach Award 
A separate full-day Cyber 1.3 event on Monday, April 8, that delves even deeper into the cyber domain and its intersection with space. Cyber 1.3 requires separate registration; a substantial discount is available when registration is combined with National Space Symposium registration
Special events and programs for New Generation Space Leaders, educators, students, media and corporate partners 
The gala Space Technology Hall of Fame® dinner honoring 2013 inductees into the prestigious program that honors space technologies that have been adapted to improve life on Earth
About Gen. Shelton
As commander, Air Force Space Command, Peterson Air Force Base, Colo., Gen. Shelton is responsible for organizing, equipping, training and maintaining mission-ready space and cyberspace forces and capabilities for North American Aerospace Defense Command, U.S. Strategic Command and other combatant commands around the world. He leads more than 42,000 professionals assigned to 134 locations worldwide.
He entered the Air Force in 1976 as a graduate of the U.S. Air Force Academy. He has served in various assignments, including research and development testing, space operations and staff work. He has commanded at the squadron, group, wing and numbered air force levels, and served on the staffs at major command headquarters, Air Force headquarters and the Office of the Secretary of Defense.
Before assuming his current position, Gen. Shelton was the Assistant Vice Chief of Staff and Director, Air Staff, U.S. Air Force, Pentagon, Washington, D.C., and Chief of Warfighting Integration and Chief Information Officer, Office of the Secretary of the Air Force, the Pentagon, Washington, D.C.
He earned a Bachelor of Science degree in astronautical engineering, U.S. Air Force Academy, Colorado Springs, Colo., a Master of Science degree in astronautical engineering, U.S. Air Force Institute of Technology, Wright-Patterson AFB, Ohio, and a Master of Science degree in national security strategy, National War College, Fort Lesley J. McNair, Washington, D.C.
See more about Air Force Space Command at www.afspc.af.mil.
Co-Sponsors
Confirmed co-sponsors include: a.i. solutions; Aeroflex; Arianespace, Inc.; Barrios Technology; Blue Ridge Networks; GMV USA; Lockheed Martin; Moog; Northrop Grumman; SpaceX; Stellar Solutions. Learn the benefits of sponsorship here.
Register Now for Super Early Bird Rate
Registration is now open for the 29th National Space Symposium and Cyber 1.3. Take advantage of the Super Early Bird rate by registering at www.NationalSpaceSymposium.org/register, which includes a live chat tab for customer service questions.
About the Space Foundation
The foremost advocate for all sectors of the space industry and an expert in all aspects of space, the Space Foundation is a global, nonprofit leader in space awareness activities, educational programs that bring space into the classroom and major industry events, including the National Space Symposium, all in support of its mission "to advance space-related endeavors to inspire, enable and propel humanity." The Space Foundation publishes The Space Report: The Authoritative Guide to Global Space Activity and provides three indexes that track daily performance of the space industry. Through its Space Certification and Space Technology Hall of Fame® programs, the Space Foundation recognizes space-based technologies and innovations that have been adapted to improve life on Earth. The Space Foundation was founded in 1983 and is based in Colorado Springs, Colo. Its world headquarters features a public Visitors Center with two main areas – the El Pomar Space Gallery and the Northrop Grumman Science Center featuring Science On a Sphere®. The Space Foundation also conducts research and analysis and government affairs activities from its Washington, D.C., office and has a field office in Houston, Texas. For more information, visit www.SpaceFoundation.org. Follow us on Facebook, LinkedIn and Twitter, and read about the latest space news and Space Foundation activities in Space Watch.
# # #
---
Posted in Space Foundation Press Releases