Space Foundation Press Releases
---
Space Foundation Lowers Active Military/Government Rate for 29th National Space Symposium
Written by: developer
COLORADO SPRINGS, Colo. (Nov. 27, 2012) – The Space Foundation has adjusted its rate for active duty military and government personnel who register for the 29th National Space Symposium, lowering the cost to 2010 pricing. The government/military rate for the four-day Symposium is now $790.
"We reduced the rate for active duty military and government personnel out of sensitivity to government budget constraints," said Space Foundation CEO Elliot Pulham. "The Space Symposium is an important event for conducting meaningful business, and we don't want the budget situation to prevent this very important group from attending."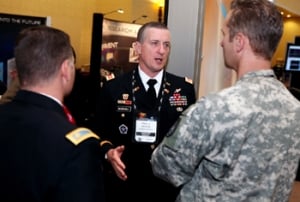 The active duty military and government personnel rate includes admission to Symposium general sessions and receptions and to the Lockheed Martin Exhibit Center, plus one ticket to each dinner and a ticket to one luncheon. This special rate does not apply to contractors who work for or with the government or military.
The Space Symposium slated for April 8-11, 2013, at The Broadmoor Hotel in Colorado Springs, Colo. Presented by the Space Foundation, the Symposium will offer presentations and panels covering all aspects of space, plus special events and presentation of several prestigious space-related awards.
A separate Cyber 1.3 event will be held on Monday, April 8, at The Broadmoor Hotel and requires separate registration. The active government/military rate for Cyber 1.3 is just $395. Or, when combined with Space Symposium registration, the total for both events is $1,140.
See registration specifics at www.nationalspacesymposium.org/register/fees-tickets-policies.
Space Symposium Speakers
Confirmed speakers include:
Wanda M. Austin, Ph.D., president and CEO, The Aerospace Corporation 
Craig R. Barrett, Ph.D., retired CEO/chairman of the board, Intel Corporation 
Romain Bausch, president & CEO, SES 
Lt. Gen. David A Deptula, USAF, Ret., president, The Deptula Group 
Jean-Jacques Dordain, director general, The European Space Agency (ESA) 
Yannick d'Escatha, president, Centre National d'Études Spatiales (CNES) 
Gen. Howell Estes, III, USAF, Ret., president, Howell Estes & Associates, Inc.
Adm. Mark P. Fitzgerald, USN, Ret., president, Aragosto Global, LLC 
Jean-Yves Le Gall, chairman & CEO, Arianespace 
Steve MacLean, Ph.D., president, Canadian Space Agency
Gen. William L. Shelton, USAF, commander, Air Force Space Command
Johann-Dietrich Worner, chairman, German Aerospace Center (DLR)
Co-Sponsors
Confirmed co-sponsors include: a.i. solutions; Aeroflex; Arianespace, Inc.; Ball Aerospace & Technologies Corp.; Barrios Technology; Blue Ridge Networks; General Dynamics; GMV USA; Lockheed Martin; Moog; Northrop Grumman; Pratt & Whitney Rocketdyne; Raytheon; Secure World Foundation; SpaceX; Stellar Solutions; The Boeing Company; United Launch Alliance. Learn the benefits of sponsorship at www.nationalspacesymposium.org/co-sponsors.
Register Now
Secure online registration for the Space Symposium and Cyber 1.3 is available at www.nationalspacesymposium.org/register, which includes a live chat tab for customer service questions.
About the Space Foundation
The foremost advocate for all sectors of the space industry and an expert in all aspects of space, the Space Foundation is a global, nonprofit leader in space awareness activities, educational programs that bring space into the classroom and major industry events, including the National Space Symposium, all in support of its mission "to advance space-related endeavors to inspire, enable and propel humanity." The Space Foundation publishes The Space Report: The Authoritative Guide to Global Space Activity and provides three indexes that track daily U.S. stock market performance of the space industry. Through its Space Certification™ and Space Technology Hall of Fame® programs, the Space Foundation recognizes space-based technologies and innovations that have been adapted to improve life on Earth. The Space Foundation was founded in 1983 and is based in Colorado Springs, Colo. Its world headquarters features a public Visitors Center with two main areas – the El Pomar Space Gallery and the Northrop Grumman Science Center featuring Science On a Sphere®. The Space Foundation also conducts research and analysis and government affairs activities from its Washington, D.C., office and has a field office in Houston, Texas. For more information, visit www.SpaceFoundation.org. Follow us on Facebook, LinkedIn and Twitter, and read about the latest space news and Space Foundation activities in Space Watch.
# # #
---
Posted in Space Foundation Press Releases