Spotlight
---
Remembering Rob Bednarek
Written by: developer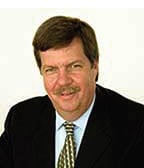 It is with regret that the Space Foundation acknowledges the passing of former board member Robert Bednarek on Jan. 6 at the age of 55 after a long battle with cancer.
Bednark served on our board of directors for two terms, from 2005 to 2011.
"Rob was a pioneer and innovator in the commercial satellite industry, whose quick wit and personal warmth will be missed. His intelligence, insight and ability to see opportunities where others saw problems made him a good Space Foundation board member, and one of the truly good guys in our industry," said Space Foundation Chief Executive Officer Elliot Pulham.
Bednarek was former president and chief executive officer of SES NEW SKIES. He joined SES in 2002 from satellite operator PanAmSat, where he was executive vice president and chief technology officer.
He also was the co-founder and partner of a technology-consulting firm based in Washington, D.C., Rubin, Bednarek and Associates, specializing in communication systems engineering and technical regulatory matters.
This article is part of Space Watch: February 2013 (Volume: 12, Issue: 2).
---
Posted in Spotlight