Stats, Facts and Papers
---
Space Sector Outperformed S&P 500 and NASDAQ in Fourth Quarter 2012
Written by: developer
The fourth quarter of 2012 saw continued strength in the space sector. The companies in the Space Foundation Services Index led the way with nearly 8 percent growth, followed by those in the Space Foundation Index and the Space Foundation Infrastructure Index (up 6.26 percent and 5.23 percent, respectively). In contrast, both the S&P 500 Index and the NASDAQ Composite were down for the quarter, as can be seen in Exhibit 1.
Exhibit 1. Space Foundation Indexes Returns vs. Benchmarks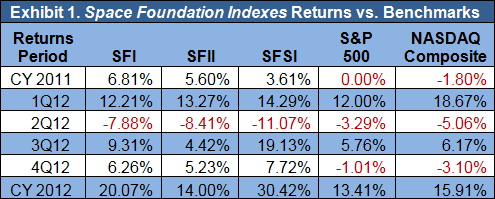 Key movers in the fourth quarter of 2012:
Gilat followed a strong third quarter with nearly 34 percent growth to lead all Index components in the fourth quarter. Gilat's stock was buoyed by strong earnings and new customer orders.
Trimble was up almost 26 percent for the quarter based on improving sales forecasts and the acquisition of ALK technologies, a global mapping, routing, and navigation technology company.
Computer Sciences Corp was up more than 24 percent as the company raised guidance on estimates for Fiscal Year 2013 earnings.
ATK increased nearly 24 percent, based on strong performance and an increase in its shareholder dividend.
DigitalGlobe was up by more than 20 percent and GeoEye 16.5 percent as the Department of Justice gave them antitrust approval for their merger. DigitalGlobe also received a boost from increased estimates of FY 2012 performance.
Loral completed the sale of its wholly owned subsidiary, Space Systems/Loral, to MacDonald, Dettwiler and Associates for more than $1 billion in total consideration. Subsequently, the board issued a special dividend totaling approximately $900 million. The special dividend helped lower Loral's overall market capitalization by 23 percent in the quarter. Additionally, this transaction ended Loral's activities in satellite manufacturing; the company will be removed from the Space Foundation Infrastructure Index for 2013. Loral will remain in the other two indexes for its ongoing satellite services activities through its majority ownership in Telesat Holdings and XTAR.
Globalstar's stock reversed course once again in the fourth quarter, falling 29 percent, with the news that the stock was going to be delisted from the NASDAQ Stock Exchange for failing to comply with a requirement to maintain its stock at a minimum $1.00 per share bid price. The company determined that it was not in its interest to execute a reverse stock split in order to maintain compliance, and the delisting occurred in December.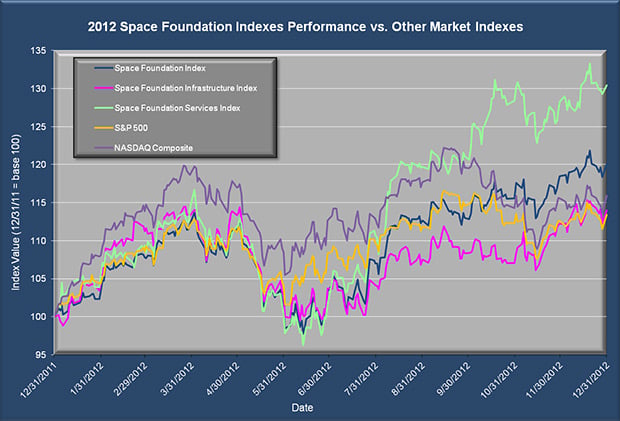 This article is part of Space Watch: February 2013 (Volume: 12, Issue: 2).
---
Posted in Stats, Facts and Papers