Space Foundation Press Releases
---
Support Public Television and Meet Author P.J. O'Rourke at the 29th National Space Symposium
Written by: developer
COLORADO SPRINGS, Colo. (March 26, 2013) – Rocky Mountain PBS and the Space Foundation invite the public to meet author and humorist P.J. O'Rourke at an exclusive fundraiser during the Space Foundation's 29th National Space Symposium. 
The event will be held at The Broadmoor Hotel in Colorado Springs, Colo., and includes a special live taping on April 9 of "Colorado State of Mind," the Rocky Mountain PBS Emmy Award-winning weekly news program.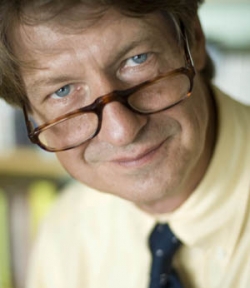 Hosted by Cynthia Hessin, the "Colorado State of Mind" taping will begin at 3:00 p.m. with panelists including:
Debra Facktor Lepore, vice president and general manager – strategic operations, Ball Aerospace & Technologies Corporation 
Dr. Ron Sega, vice president and enterprise executive for energy and the environment, Colorado State University and The Ohio State University, and former NASA astronaut 
Dr. Leroy Chiao, Space Foundation special advisor – human spaceflight and former NASA astronaut 
G. Ryan Faith, Space Foundation research analyst
Dr. George F. Sowers, vice president of Human Launch Services, United Launch Alliance (ULA) 
The taping will be followed by a private reception with P.J. O'Rourke.
Two ticket levels are available. The $150 ticket includes:
An invitation to the special taping of "Colorado State of Mind" on April 9 
A private reception with P.J. O'Rourke following the taping
Admission to the Lockheed Martin Exhibit Center at the 29th National Space Symposium
A signed copy of O'Rourke's latest book, Holidays in Heck
The $500 VIP ticket includes all of the above, plus dinner with P.J. O'Rourke on April 11. Return to the Space Symposium to join O'Rourke and seven other guests at his personal table at the Space Technology Hall of Fame® Dinner on Thursday evening, April 11, where actress Sigourney Weaver will speak.
For tickets go to https://rmpbs.sparkforms.com/SpaceSymposium
About O'Rourke
P.J. O'Rourke is a Space Foundation board member and author of 12 best-selling books, including Holidays in Heck, released in 2011. He worked at small newspapers in Baltimore and New York in the early 1970s before joining The National Lampoon, where he became editor-in-chief. He was a foreign correspondent in the 1980s, and has covered crises and conflicts in more than 70 countries. O'Rourke is the H.L. Mencken Research Fellow at the Cato Institute in Washington, D.C. He earned a master's degree in English from The Johns Hopkins University in Baltimore, where he was a Woodrow Wilson Fellow. He serves on the Space Foundation board of directors.
About Rocky Mountain PBS (RMPBS)
RMPBS is the Public Broadcasting Service (PBS) member non-commercial educational public television station in Colorado. Headquartered in downtown Denver, the station reaches one million viewers in Colorado, Wyoming, Nebraska and New Mexico each week with provocative and inspiring local, national and international programming. Founded in 1956 as Colorado's first public television station, Rocky Mountain PBS is now Colorado's only statewide television network, with stations in Denver (KRMA), Pueblo/Colorado Springs (KTSC), Steamboat Springs (KRMZ), Grand Junction (KRMJ) and Durango (KRMU). The Space Foundation certified RMPBS as a Certified Educational Product partner in 2012.
About the Space Symposium
The Space Foundation's Space Symposium will be held April 8-11 at The Broadmoor Hotel, with presentations and panel discussions covering all aspects of space, and featuring the latest space technology, equipment and services in the Lockheed Martin Exhibit Center.
See the agenda at www.NationalSpaceSymposium.org/agenda, and register now at www.NationalSpaceSymposium.org/register.
About the Space Foundation
The foremost advocate for all sectors of the space industry and an expert in all aspects of space, the Space Foundation is a global, nonprofit leader in space awareness activities, educational programs that bring space into the classroom and major industry events, including the National Space Symposium, all in support of its mission "to advance space-related endeavors to inspire, enable and propel humanity." The Space Foundation publishes The Space Report: The Authoritative Guide to Global Space Activity and provides three indexes that track daily U.S. stock market performance of the space industry. Through its Space Certification™ and Space Technology Hall of Fame® programs, the Space Foundation recognizes space-based technologies and innovations that have been adapted to improve life on Earth. The Space Foundation was founded in 1983 and is based in Colorado Springs, Colo. Its world headquarters features a public Visitors Center with two main areas – the El Pomar Space Gallery and the Northrop Grumman Science Center featuring Science On a Sphere®. The Space Foundation also conducts research and analysis and government affairs activities from its Washington, D.C., office and has a field office in Houston, Texas. For more information, visit www.SpaceFoundation.org. Follow us on Facebook, LinkedIn and Twitter, and read about the latest space news and Space Foundation activities in Space Watch.
# # #
---
Posted in Space Foundation Press Releases