Space Foundation Press Releases
---
Space Foundation Discovery Center Features "Women in Spaceflight" July 23-27
Written by: developer
COLORADO SPRINGS, Colo. (July 18, 2013) – Young women and girls who dream of a career in aerospace are encouraged to come to the Space Foundation Discovery center July 23-27 to meet and hear from women who have been leaders in spaceflight.
The Space Foundation Discovery Center is the region's only space, science and technology attraction, and is open to the public from 10:00 a.m. to 5:00 p.m., Tuesdays through Saturdays. The Discovery Center is located at 4425 Arrowswest Dr., Colorado Springs, Colo., off of Garden of the Gods Rd., west of Centennial Blvd.
The following presentations are included in the price of admission July 23-27: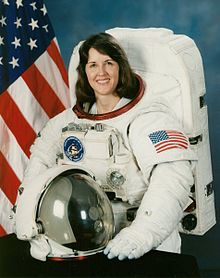 Tuesday, July 23
Former NASA Astronaut Kathryn C. Thornton, Ph.D.
Professor, Mechanical and Aerospace Engineering, University of Virginia
Autographs available throughout the day on Tuesday, with presentations at:
11:00 a.m.
2:00 p.m.
4:00 p.m. — this presentation is specifically for girls and young women who are interested in pursuing careers in the space industry
A veteran of four space flights (STS-33 in 1989, STS-49 in 1992, STS-61 in 1993 and STS-73 in 1995), Thornton has logged more than 975 hours in space, including more than 21 hours of extravehicular activity. She will talk about her career leading up to NASA, her Space Shuttle missions and her endeavors since that time, followed by a question and answer session.
Wednesday, July 24, 10:30 a.m.
Presentation: "Women in Military Satellite Operations"
Lt. Col. Jennifer K. Reeves, USAF
Capt. Beverly P. Fulgencio, USAF
Capt. Gail M. Smicklas, USAF
SMSgt. Christine L. Wall, USAF
Hear from representatives of the 50th Space Wing, Schriever AFB, Colo., who will speak about the 50th Space Wing's capabilities and the roles women play in multiple squadrons, including 24-hour satellite tracking, telemetry and commanding functions, providing global warfighters with precision, navigation and timing, and protected communications and space situational awareness.
Saturday, July 27, 11:00 a.m.
Presentation: "Why Space?"
Kathryn G. Tobey
Vice President, Military Support Programs, Lockheed Martin Space Systems Company
Tobey is responsible for the total cost, schedule and technical performance of the $600 million per year satellite development and production program, employing a 700 person workforce and management of 180 suppliers. Hear Tobey's perspectives and insights about why we go to space, what makes it unique and difficult and why space is the ultimate frontier.
Saturday, July 27, 3:00 p.m.
Panel Presentation: "Women in Space…Our Future"
This panel discussion will focus on college and work experiences to prepare for a career in space, what it's like to work in the space industry and mentorships. A networking reception will follow the conclusion of the panel. Panelists include:
Erica Lieb, information systems, business development, ITT Exelis
Deborah L. McCarty, vice president, space programs, Lockheed Martin Corporation
Gen. Jane C. Rohr, mobilization assistant to the Commander, Air Force Space Command
Catherine J. Steele, vice president, strategic space operations, The Aerospace Corporation
Mars Lander Workshop, Saturday, July 27
Children of all ages will enjoy this opportunity to learn about basic principles of engineering. Small teams will design and build a "lander" for a raw egg out of materials such as paper clips, cardboard tubes, construction paper, foil, cotton balls, bubble wrap and tape. Teams will then get to test their landers by dropping them from a height of 10 feet onto a simulated Mars surface. The teams with the least damaged egg will win a prize. Workshops will be divided by age:
12:30 p.m. – ages 8 and younger
2:00 p.m. – ages 9 to 12
3:30 p.m. – ages 13 and up
About the Space Foundation Discovery Center
Daily admission is $9 for adults, $7 for seniors (age 65+), $7 for college students with I.D., $3 for children ages 4-17. Children age three years and younger are admitted free. Admission is free with military I.D., to those impacted by Colorado wildfires and to first responders.
The Space Foundation Discovery Center is a collection point for Care and Share Food Bank for Southern Colorado. The public may bring food donations to the Space Foundation Discovery Center between 10:00 a.m. and 5:00 p.m., Mondays through Saturdays. Anyone bringing a food donation will receive a $2 off admission coupon to the Discovery Center.
Find $1 off admission coupons online at www.spacefoundation.org/summer-fun and at local Wendy's this summer. Summer of Discovery co-sponsors are 501st Legion, Drive SunShine Institute, ScienSonic and Wendy's. ATK and Snappy Print are printing co-sponsors.
Other Summer of Discovery themes at the Space Foundation Discovery Center are:
"Colorado Days" July 30-Aug. 3
"A Taste of Space Technology" Aug. 6-10
For more information, call the Space Foundation Discovery Center at 719.576.8000.
About the Space Foundation
The foremost advocate for all sectors of the space industry and an expert in all aspects of space, the Space Foundation is a global, nonprofit leader in space awareness activities, educational programs that bring space into the classroom and major industry events, including the annual Space Symposium, all in support of its mission "to advance space-related endeavors to inspire, enable and propel humanity." The Space Foundation publishes The Space Report: The Authoritative Guide to Global Space Activity and provides three indexes that track daily U.S. stock market performance of the space industry. Through its Space Certification™ and Space Technology Hall of Fame® programs, the Space Foundation recognizes space-based technologies and innovations that have been adapted to improve life on Earth. The Space Foundation was founded in 1983 and is based in Colorado Springs, Colo. Its world headquarters features a public Discovery Center with two main areas – the El Pomar Space Gallery and the Northrop Grumman Science Center featuring Science On a Sphere®. The Space Foundation also conducts research and analysis and government affairs activities from its Washington, D.C., office and has a field office in Houston, Texas. For more information, visit www.SpaceFoundation.org. Follow us on Facebook, LinkedIn and Twitter, and read about the latest space news and Space Foundation activities in Space Watch.
---
Posted in Space Foundation Press Releases