Space Foundation Press Releases
---
Experience the Final Week of Summer of Discovery; "A Taste of Space Technology" Aug. 6 – 10
Written by: developer
COLORADO SPRINGS, Colo. (Aug. 2, 2013) – Don't miss the Space Foundation's grand finale week of its 10-week Summer of Discovery. Come to the Discovery Center in Colorado Springs Aug. 6 – 10 for "A Taste of Space Technology" and find out how space has become an important part of our everyday lives.
The Space Foundation's Discovery Center is the region's only space, science and technology attraction, and is open to the public from 10:00 a.m. to 5:00 p.m., Tuesdays through Saturdays. Located at 4425 Arrowswest Dr., the Discovery Center is just off of Garden of the Gods Rd., west of Centennial Blvd.
Daily admission is $9 for adults, $7 for seniors (age 65+), $7 for college students with I.D., $3 for children ages 4-17. Children age three years and younger are admitted free. Admission is free with military I.D.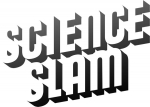 There are special fees for two events on Friday and Saturday, Aug. 9 and 10:
$23 for the ScienceSLAM, 6:00 p.m. on Friday, Aug. 9 – an entertaining evening of enthusiastic postulating, includes beer and wine, so age 21 and older only 
$24 for beer tasting 2:00 – 6:00 p.m. on Saturday, Aug. 10, for "Rocket in My Beer?" – learn the connection between beer and space
Daily activities are subject to change; see current information for Aug. 6 – 10 at www.spacefoundation.org/summer-fun.
At the Discovery Center, Aug. 6 – 10
10:00 a.m. – 5:00 p.m., included in the price of daily admission
Lego NXT Robotics demonstrations
Create an Alien / Design a Mission Patch
Moon Golf
Interactive space technology displays
Scavenger hunts
Science On a Sphere® 
Space artifacts, including a Moon rock and the "Launch to the Moon" exhibit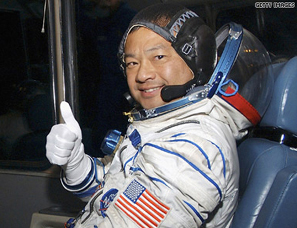 Audience with an Astronaut – Meet Dr. Leroy Chiao
Tuesday, Aug. 6 – 10:30 a.m./2:00 p.m./3:30 p.m.
Wednesday, Aug. 7 – 10:30 a.m./2:00 p.m./3:30 p.m.
Thursday, Aug. 8 – 10:30 a.m./2:00 p.m./3:30 p.m.
Friday, Aug. 9 – 10:30 a.m.
Saturday, Aug. 10 – 10:30 a.m./12:00 p.m./2:00 p.m./3:30 p.m.
Former NASA astronaut and Space Foundation Special Advisor – Human Spaceflight Dr. Leroy Chiao will give presentations about his experiences as a Space Shuttle astronaut and as a resident of the International Space Station. Throughout the day and between presentations, he will be available to pose for photos and sign autographs.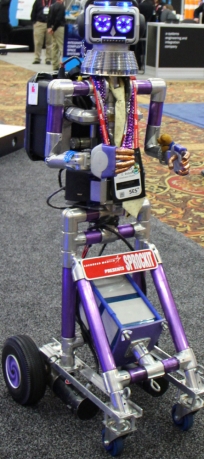 Tuesday and Wednesday, Aug. 6 – 7, meet Lockheed Martin's Sprockit the Robot
10:00 a.m. – 5:00 p.m.
Always popular with folks of any age, Sprockit is Lockheed Martin's interactive robot that engages visitors in conversation on a variety of high-tech subjects.
Friday, Aug. 9, at the Discovery Center
Test drive an electric car
Noon – 6:00 p.m.
Try out a Chevy Volt or Nissan Leaf, provided by Drive SunShine Institute (DSI).
"Fuel Your Inner Astronaut" presented by King Soopers
10:00 a.m. – 4:00 p.m.
Danielle Vallejos, registered dietician with King Soopers, will present a "Taste of Learning" and other nutritional classes – just in time for back to school. Children's activities featuring "Blubber Burger" will be available between presentations.
A View from Space by Dr. Leroy Chiao
Friday, Aug 9, 3:00 p.m.
One of Chiao's tasks as Expedition 10 Commander on the International Space Station was to photograph various meteorological and atmospheric phenomena as well as geographical, manmade and natural landmarks. He took more than 24,000 photos during his time in space. Meet the man and see his photos during this special presentation.
Experience what may be the first Science SLAM in the U.S.
6:00 p.m. – doors open, beer and wine reception
6:30 – 8:30 p.m. — Science SLAM, age 21 and older only
Admission fee for Friday evening is $23, beginning at 6:00 p.m.
The Science SLAM brings together passionate researchers and the curious public in an unconventional atmosphere. With ten-minute talks in front of a non-expert audience, the focus lies on an entertaining presentation and making the topic understandable for novices. The audience is the jury and selects the winning presenter. The host for the evening is special guest Dr. Jochen Müller, of Experimental Neurology, Charité – University Medicine Berlin.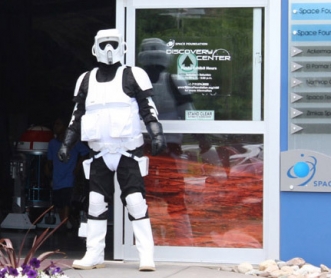 Saturday, Aug. 10, at the Discovery Center
10:00 a.m. – 5:00 p.m., included in the price of daily admission
Meet the Stormtroopers and other Star Wars characters
Lego NXT Robotics demonstrations
NASA visiting exhibit "Space Shuttle: Conquering Low Earth Orbit" 
Multi rotor quadcopter demonstrations
Science On a Sphere® with a focus on wildfires
Lunch from food trucks
"Rocket In My Beer?"
2:00 – 6:00 p.m.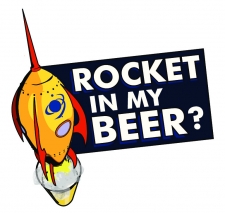 The fee is $24 per person at the door, includes admission to the Discovery Center and a wristband allowing beer tasting of sample top flight brews from:
Bristol Brewing Company
Colorado Mountain Brewery
Great Storm Brewing
Paradox Beer Company
Pikes Peak Brewing Company
Red Leg Brewing Company
Rocky Mountain Brewery
Smiling Toad Brewery
About the Space Foundation Discovery Center
The Discovery Center is a collection point for Care and Share Food Bank for Southern Colorado. Bring food donations to the Discovery Center between 10:00 a.m. and 5:00 p.m., Mondays through Saturdays and receive a $2 off admission coupon to the Discovery Center.
For more information, call the Discovery Center at 719.576.8000 or visit www.spacefoundation.org/visit. Summer of Discovery co-sponsors are: 501st Legion, ATK, Drive SunShine Institute, ScienSonic, Snappy Print and Wendy's.
About the Space Foundation
The foremost advocate for all sectors of the space industry and an expert in all aspects of space, the Space Foundation is a global, nonprofit leader in space awareness activities, educational programs that bring space into the classroom and major industry events, including the annual Space Symposium, all in support of its mission "to advance space-related endeavors to inspire, enable and propel humanity." The Space Foundation publishes The Space Report: The Authoritative Guide to Global Space Activity and provides three indexes that track daily U.S. stock market performance of the space industry. Through its Space Certification™ and Space Technology Hall of Fame® programs, the Space Foundation recognizes space-based technologies and innovations that have been adapted to improve life on Earth. The Space Foundation was founded in 1983 and is based in Colorado Springs, Colo. Its world headquarters features a public Discovery Center with two main areas – the El Pomar Space Gallery and the Northrop Grumman Science Center featuring Science On a Sphere®. The Space Foundation also conducts research and analysis and government affairs activities from its Washington, D.C., office and has a field office in Houston, Texas. For more information, visit www.SpaceFoundation.org. Follow us on Facebook, LinkedIn and Twitter, and read about the latest space news and Space Foundation activities in Space Watch.
---
Posted in Space Foundation Press Releases