Space Foundation Press Releases
---
Register Now for Space Foundation's 30th Space Symposium
Written by: developer
COLORADO SPRINGS, Colo. (Oct. 29, 2013) – For its 30th year the Space Foundation's global space conference unveils a new name to reflect its expanding international reach. With "National" dropped from its name, the 30th Space Symposium will be held May 19-22, 2014, at The Broadmoor Hotel in Colorado Springs, Colo., U.S.A.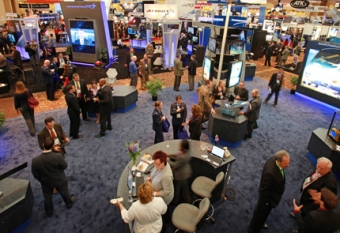 The Space Foundation is offering a Super Early Bird rate, with up to $500 in savings, for industry attendees who register before Jan. 24 at www.SpaceSymposium.org. Space Symposium registration includes admittance to the exhibit center, the opening ceremony and several networking events throughout the week.
Expect even more international participation at the 30th Space Symposium than in previous years. Widely known as the most significant global space industry conference, the Space Symposium annually attracts more than 9,000 participants worldwide, including top decision makers from civil, military, commercial and academic institutions.
Another of the main reasons to attend the 30th Space Symposium is the dynamic Boeing Exhibit Center and Boeing Exhibit Center Pavilion, featuring more than 160 displays of the world's latest space technology, products and services.
More than 100 top civil and military space leaders from the U.S. and abroad are slated to speak, including:
Brig. Gen. Yves Arnaud, FAF, Commander, Joint Space Command, French Ministry of Defense
Charles F. Bolden, Jr., NASA Administrator
Lt. Gen. James R. Clapper, Jr., USAF (Ret.), Director of National Intelligence
Yasushi Horikawa, Ph.D., Chairman, United Nations Committee on the Peaceful Uses of Outer Space
Gen. William L. Shelton, USAF, Commander, Air Force Space Command
Space Symposium Website Available in 71 Languages
Space Foundation web designers have created a dynamic new Space Symposium website that is easy to use and, thanks to Google Translate, provides information in 71 languages. The new website also loads faster than in previous years and is responsive and adaptive for mobile and tablet devices. It also provides greater exposure for event co-sponsors.
Co-sponsors
The Space Symposium officially kicks off Monday evening, May 19, with a spectacular opening ceremony, co-sponsored by Northrop Grumman. Other event co-sponsors include: a.i. solutions; Aerojet Rocketdyne; ATK; Colorado Space Business Roundtable (CSBR); Raytheon and The Boeing Company. SatNews Publishers is a media partner.
Register Now
The 30th Space Symposium is preceded by a full-day cyberspace conference, Cyber 1.4 on Monday, May 19, at The Broadmoor Hotel. Cyber 1.4 requires separate registration, and a substantial discount is available when combined with Space Symposium registration.
See details, including how to exhibit and how to become a sponsor and how to get the Super Early Bird rate at www.SpaceSymposium.org.
About the Space Foundation
Founded in 1983, the Space Foundation is the foremost advocate for all sectors of space, and is a global, nonprofit leader in space awareness activities, educational programs and major industry events, including the annual Space Symposium, all in support of its mission "to advance space-related endeavors to inspire, enable and propel humanity." Space Foundation world headquarters in Colorado Springs, Colo., features a public Discovery Center including the El Pomar Space Gallery and the Northrop Grumman Science Center featuring Science On a Sphere®, and is a member of the American Alliance of Museums. The Space Foundation has a field office in Houston, and from its Washington, D.C., office, conducts government affairs, publishes The Space Report: The Authoritative Guide to Global Space Activity and provides three indexes that track daily U.S. stock market performance of the space industry. Through its Space Certification™ and Space Technology Hall of Fame® programs, the Space Foundation recognizes space-based technologies and innovations that have been adapted to improve life on Earth. Visit www.SpaceFoundation.org, follow us on Facebook, LinkedIn and Twitter, and read our e-newsletter Space Watch.
---
Posted in Space Foundation Press Releases