Space Foundation Press Releases
---
Space Foundation Discovery Center Features "Exploring Mars" Sept. 6
Written by: developer
COLORADO SPRINGS, Colo. (Sept. 4, 2014) – The public is invited to visit the Space Foundation Discovery Center in Colorado Springs on Saturday, Sept. 6, for a special day of "Exploring Mars," part of its monthly "Star Days" series.
Drive a rover on our simulated Martian terrain, play Minecraft Mission To Mars in our AGI Space Missions Simulation Laboratory and watch a special Science On a Sphere® presentation, "The Air of Mars: Exploring Mars' Atmospheres with MAVEN." These activities are included in the price of Discovery Center admission on Sept. 6.
Our El Pomar Space Gallery is home to the Space Foundation Discovery Center collection of space artifacts. Our initial exhibit, "Launch to the Moon," chronicles the 1959-1976 United States and Soviet Union space race, with focus on the goal to be the first to the Moon. Some highlights include:  
A real Soviet Lunokhod robotic moon buggy exactly like two that were secretly launched during the Cold War and recently re-discovered on the surface of the Moon
Learn about the U.S. Lunar Module (LM) – the first manned vehicle to land on the Moon
See scale models of rockets
Find out what astronauts eat in space
See Soviet and U.S. space suits – and learn how they protect astronauts from space hazards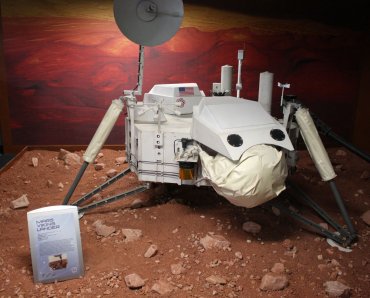 The Discovery Center also displays a Mars Viking Lander exhibit (pictured) with details of the 1975 Viking Mission to Mars.
"Star Days" are held one Saturday each month at the Discovery Center, 10:00 a.m. – 5:00 p.m., with a new space theme each month. Activities are appropriate for all ages, and admission savings are available through the Discovery Center Passport program. Learn more at www.spacefoundation.org/museum.
About the Space Foundation Discovery Center
The Space Foundation Discovery Center is the region's only space, science and technology attraction, and is located at 4425 Arrowswest Drive in Colorado Springs, just off of Garden of the Gods Road. The Discovery Center is open Tuesday through Saturday, 10:00 a.m. – 5:00 p.m.
Discovery Center daily admission fees are $10 for adults, $7.50 for seniors (age 65+), $7.50 for college students with I.D., $4.50 for children ages 4-17. Children age three years and younger are admitted free. Military fees are $5.00 for adults with I.D., and $4.00 for military children ages 4-17 with I.D. Military includes active duty, guard, reserve or retiree with I.D. For information, call the Space Foundation at 719.576.8000.
About the Space Foundation
Founded in 1983, the Space Foundation is the foremost advocate for all sectors of space, and is a global, nonprofit leader in space awareness activities, educational programs and major industry events, including the annual Space Symposium, in support of its mission "to advance space-related endeavors to inspire, enable and propel humanity." Space Foundation World Headquarters in Colorado Springs, Colo., USA, has a public Discovery Center including the El Pomar Space Gallery and the Northrop Grumman Science Center featuring Science On a Sphere®, and is a member of the American Alliance of Museums. The Space Foundation has a field office in Houston, and conducts government affairs from its Washington, D.C., office. It annually publishes The Space Report: The Authoritative Guide to Global Space Activity and through its Space Certification™ and Space Technology Hall of Fame® programs, the Space Foundation recognizes space-based innovations that have been adapted to improve life on Earth. Visit www.SpaceFoundation.org, follow us on Facebook, LinkedIn and Twitter, and read our e-newsletter Space Watch.
---
Posted in Space Foundation Press Releases