Second View
---
Celebrating World Space Week: Why We Explore Space
Written by: developer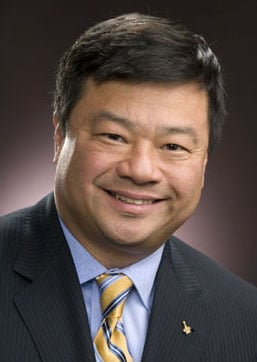 by Leroy Chiao, Ph.D., Space Foundation Special Advisor – Human Spaceflight
World Space Week is upon us! This year's theme is "Discovery." How appropriate, given the fantastic images and data from the Rosetta, Philae and New Horizons missions, as well as the highly successful first flight-test of Orion. It has been a fantastic year for space exploration!
Why do we explore space? Of course exploration is initially driven by human curiosity, but it is sustained by practical benefits. Analyses have shown that the Apollo Moon program returned between two-to-ten dollars to the American people for every dollar spent. The space program serves as a technology driver, accelerating the development of advanced electronics, lightweight materials, and other innovations that we take for granted.
But, I believe that the biggest returns on any space exploration program are much less tangible. This includes the fostering of "soft power," of bettering international relations. More importantly, space exploration inspires the next generation of young people. This touches on two of the key tenets of World Space Week: International cooperation and educational outreach.
The International Space Station (ISS) is a model of international cooperation. Former Cold War and World War II adversaries came together to create the most audacious space construction project, ever. The ISS has been hugely successful in both scientific and engineering terms. Also, no one can argue about the success that the ISS program has had in promoting better international relations between all partner countries.
As great an accomplishment as this is, I believe the bigger and most important effect of the space program, of which ISS is a part, is the inspiration of the next generation of young people. The Space Foundation is the leader in space and science, technology, engineering and math (STEM) education. This is a key component of the organization's mission, and the Space Foundation education team fans out across the United States reaching out to the far corners of the country to promote interest in space and technology at all levels. It is a worthy mission to help ensure the future success of our great nation, and I am proud to be a part of that effort.
Some commentators today talk about the decline of America's leadership and influence. In some ways, it does feel as if we are at a crossroads. Will we choose to move boldly forward, or to question ourselves about our future world role? It is time to renew our international leadership commitments, and to ensure our future place by motivating and enabling our young to strive and achieve as we once did, and can do again.
Together, we can and will inspire, shape and equip the next generation of leaders, including scientists, engineers, artists, musicians, writers, entrepreneurs, educators and astronauts. And through this, further the greatness of the United States. World Space Week is the perfect event at which to renew this commitment, and to launch ourselves to the next level!
Leroy Chiao, Ph.D., earned his doctorate in chemical engineering from the University of California at Santa Barbara. He is a former NASA astronaut who flew three Space Shuttle missions: STS-92 Discovery, 2000; STS-72 Endeavour, 1996; and STS-65 Columbia, 1994. In addition, he flew as Flight Engineer 1 aboard Soyuz TMA-5 to the International Space Station (ISS), where he served as commander and NASA science officer during Expedition 10. He lived on the ISS for more than six months. In addition to English, he speaks Mandarin Chinese and Russian. Chiao received the NASA Distinguished Service Medal in 2004.
This article is part of Space Watch: October 2015 (Volume: 14, Issue: 10).
---
Posted in Second View