Public Policy and Government Affairs
---
State of Space 2020: A Summary
Written by: Space Foundation Editorial Team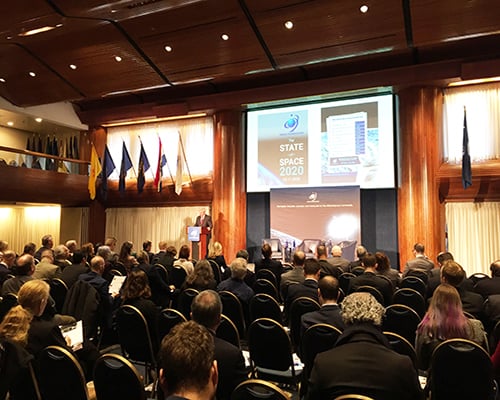 On February 11, 2020, the Space Foundation presented the State of Space 2020 at the National Press Club in Washington, D.C. Attended by hundreds of members of the space community, the media, and the government, the event featured discussions covering the priorities, challenges, and opportunities in space in the year 2020, and the years ahead.
Remarks from the Space
Foundation CEO
The event opened with remarks from Space Foundation CEO, Tom Zelibor, in which he recounted a number of exciting events and accomplishments in 2019, including the creation of the U.S. Space Force, the announcement of NASA's Project Artemis, Moon-landing attempts by India and Israel, and NASA astronaut Christina Koch's recording-breaking mission.
"There has never been a better time to be in the space community," said Zelibor. "Even though we just celebrated the anniversary of Apollo last summer, I would say the next 50 years will be even more exciting and transformational for all of us."
What will be different this time? Zelibor said space is no longer just a U.S. government endeavor, but instead, a community of public, private, and academic stakeholders thriving on a diversity of talent — multiracial, all-gender, multigenerational teams dedicated to a common mission. Space activities are also no longer an east-versus-west competition between superpowers. Instead, Zelibor said, "It is a worldwide endeavor bringing together the best and brightest of all nations, while also leveraging the strength of public-private partnerships."
The result is a space economy worth $415 billion in 2019, according to The Space Report, which is projected to reach or exceed $1 trillion over the next two decades. In his remarks, Zelibor unveiled the Space Foundation's Space Economy Scorecard, which highlights top-line metrics showing the dynamic activities and value in space. In reviewing those Zelibor noted, "With all the good news, there needs to be a healthy dose of reality for the metrics you see."
For example, there are 81 nations operating in space. While noteworthy and inspiring, it also creates new challenges. Space is an increasingly congested and contested domain, and as more nations take up space activities, it raises issues such as securing access to space capabilities, space debris clean-up, space traffic management, mineral rights for mining beyond Earth, and other policy matters.
The space community is also challenged to cultivate and attract enough skilled professionals to fill the growing labor demand. There were one million people employed by the space economy in 2017 according to the Organization for Economic Co-Operation and Development, and the number of jobs in science, technology, engineering, and mathematics (STEM) fields is forecast to reach nearly 11 million by 2028, according to the U.S. Bureau of Labor Statistics. Yet, as Zelibor noted, U.S. universities are only graduating 15% of the number of STEM-educated professionals needed. This presents a significant challenge for the space community, particularly in national security space.
The overall economic impact of GPS since 1983 is $1.35 trillion according to RTI International, but that enormous value makes GPS and other space assets targets for U.S. adversaries. In regard to this, Zelibor stated, "Space is truly a critical infrastructure that deserves the undivided attention of our government and our industry partners." It's a prime reason why entities like the Space Information Sharing and Analysis Center (Space ISAC) are essential for ensuring access to space capabilities.
Zelibor closed by emphasizing how space activities and exploration improve life on Earth. The technologies and science that allow us to operate in space have Earth-based benefits and applications, including advanced farming, telemedicine, 3D-printing technologies, and much more. In this way, the state of space going forward is truly space for all.
Panel 1: U.S. Legislators on Space Policies and Priorities
Following Zelibor's remarks, the event proceeded with a panel discussion featuring the co-chairs of the Bipartisan Space Power Caucus, U.S. Representatives Kendra S. Horn (D-OK) and Doug Lamborn (R-CO), moderated by Washington Post reporter Christian Davenport. Congresswoman Horn serves on the House Armed Services Committee, the House Science, Space and Technology Committee, and is chairwoman of the Space and Aeronautics Subcommittee. Congressman Lamborn serves on the House Armed Services Committee and the Strategic Forces and Emerging Threats and Capabilities Subcommittee.
In her opening remarks, Rep. Horn applauded the impact and opportunity across the spectrum of space activities, including progress on the NASA authorization bill and the realignment of the national security space activities under U.S. Space Command and the U.S. Space Force. Yet, Rep. Horn cautioned that there may not be a widespread appreciation for why these activities are critical.
"The importance of our ability to communicate the need to invest in space … and to include space as a critical component of our infrastructure can't be understated," she said. "When we're talking about major investments in our infrastructure moving forward, we can't leave space technology investments out of that. If we do, we will live to feel the consequences of that."
Davenport asked Rep. Horn for her thoughts on the Trump Administration's $25.2 billion budget request for NASA in fiscal year 2021, nearly half of which is intended to be directed to Project Artemis and future plans for a crewed mission to Mars. She noted that while she was pleased to see an increase in the proposed budget, she had some concerns as to how the budget would be allocated, including the elimination of some science missions and funding for education. She also said that she is awaiting more granular details on the strategy for pursuing Project Artemis.
Noting that other nations are planning lunar projects, Davenport asked Rep. Lamborn about the national security implications of establishing a permanent base on the lunar south pole. He spoke with specific reference to the Chinese lunar ambitions and the weak distinction between Chinese civil and national security space programs.
"The Chinese are very good at saying this is a civilian use of this project or technology, but it has dual use," he said. "It has military applications. In fact, I don't know if they do anything that doesn't have dual applications… They very much have military thoughts in mind when it comes to what they could do with a permanent presence on the Moon and the ability to track things and see things from an unchanging platform that no one really has right now."
Rep. Horn added that as a multi-mission civilian agency, NASA must continue to innovate and focus on a critical path forward that can be expanded as Congress allocates further resources. She also said that increasing competition in national security space has made the creation of a U.S. Space Force and the realignment of national security space assets critical.
Davenport asked whether NASA's oversight of the commercial crew program has been sufficient. Rep. Lamborn emphasized the importance of insight and oversight, and noted that the success of the Apollo program was possible because of a union of commercial contractors and NASA involvement throughout every phase of development. He said that it is likewise important to be intentional and thoughtful in how contracts are developed for Project Artemis and other NASA endeavors, with NASA having deep insight and involvement throughout.
While competition for a lunar presence intensifies, so too does competition for dominance in near-Earth space. Rep. Lamborn said, "We're making the transition from when space was a sanctuary, to space as a contested domain." In this contested space, he said, the future is resilience — satellites and other assets that are cheaper, smaller, and more proliferate, making it much more difficult for an adversary to destroy or disrupt space-based infrastructure.
"The more that [China and Russia] project power by depending on space to have that projection of power, the more they will miss that if we take the offense under a time of crisis and have no other choice but to attack their systems," he said. "I think, maybe, there is a mutual assured destruction in space … no one would go there because the consequences would be too severe."
While the current administration has prioritized space activity, administration changes can impact longterm plans and projects. Given that, Davenport asked if the representatives were confident that if the administration changed in 2021, the civil and national security space programs would continue on their current paths. Reps. Horn and Lamborn agreed that they would.
Rep. Horn said that space is not a partisan issue, and bolstering that means ensuring broad understanding of the missions and their value. She said, "The more that we can lay out the case for the importance of Artemis and the programs that have been invested in our continued efforts, that is critical. We have to do a better job of telling the story."
Lamborn added, "For the national security side of space, I think there is a real strong consensus in both the House and the Senate to make this a high priority, regardless of what administration is in the White House a year from now."
Panel 2: Space and Its Role in U.S. Economic Security
The event concluded with a panel discussion on the role of space in U.S. economic security, and the young professionals who are pursuing a new era of space opportunities. Moderated by SpaceNews Editor-in-Chief Brian Berger, the panel featured: Lauren Smith, Operations Manager, New Moon Enterprise Operating Unit, Northrop Grumman; Charity Weeden, Vice President, Global Space Policy, Astroscale U.S. Inc.; Sirisha Bandla, Director of Washington Operations, Virgin Orbit; and Andrew Chanin, CEO, Procure Space ETF.
Panelists discussed the issues they think will have the largest impact on their organization and the state of space going forward. Smith noted that the Baby Boomer generation makes up a large percentage of the aerospace industry, and as this segment reaches retirement, it presents a need to improve the talent pipeline and facilitate knowledge transfer. She said, "Our needs are greater than ever, and our largest demographic of the workforce that is the most experienced and has lived a lot of this in aerospace are eligible for retirement. Getting that right is essential to being successful in any state of space areas."
Weeden cited outdated global rules and best practices for managing and limiting orbital debris, which "does not support this industry or our way of life." The challenge, she said, is to build a sustainable space future by updating rules and best practices for limiting and removing space debris.
For her part, Bandla identified healthy competition, commercial-friendly acquisition, and frequent access to space as primary state of space issues. With a variety of launch systems and space assets, public sector stakeholders can fuel innovation by streamlining processes in space traffic management, space situational awareness, the regulatory environment, and other best practices. She said, "If we're looking at being agile, being responsive, and utilizing commercial space companies in this new way, the government-commercial acquisition processes should also be streamlined. Contracts should not take months to be put in place."
Looking at space activity through the investment lens, Chanin said it was important to cultivate public awareness of space investing and the performance of space companies. Championing success and opportunity encourages entrepreneurship and innovation, as well as economic activity and competition.
"Just like every industry, nothing happens without investment," he said. "All these great ideas, technologies, education programs and everything, all require significant investment. You can have the greatest idea in the world, but without the access to the capital, it won't get off the ground."
Berger questioned the credibility of the space economy projections forecasting $1 trillion within the next two decades, which Chanin said by some forecasts may be too conservative. The greatest growth in the space economy is expected to come from broadband internet and communications, but other important trends will include cloud computing, connected devices, and blockchain technology that will generate and transmit enormous troves of data. In this regard, Chanin said, space is the data superhighway manned by toll operators for the modern technologies upon which society is increasingly reliant.
Berger asked Weeden whether the world is on a path to a sustainable orbital environment, and she said there are important points of progress, such as the U.N. Committee on the Peaceful Uses of Outer Space "Guidelines for the Long-term Sustainability of Outer Space Activities." Yet, the issue of curating a sustainable space environment is so significant that it constitutes a new market.
"It's very rare in the space industry that a new market emerges," she said. "I see it as a goal for the space community to make sure in-orbit services, in-orbit infrastructure, [and] orbital environment management is part and parcel of that trillion-dollar economy."
Who will fund this orbital clean-up and management? Weeden said there are effectively two markets — space operators with constellations of satellites eventually destined for pick-up and removal, and world governments whose space operations over decades have contributed to space debris. She added, "We all pay if we do nothing."
Turning to the space workforce, Berger asked panelists to speak to the talent needed to capitalize on emerging opportunities. Smith said talent needs are always evolving, but a priority is helping young professionals and seasoned experts form partnerships and mentorships that can transfer knowledge between generations.
She also made the point that to produce space technologies, in addition to systems engineers, the space economy requires skilled labor such as in manufacturing. This need comes at a time when similar skills are also coveted in other industries, which means there is more competition for a limited pool of talent. Part of addressing this issue requires instilling K–12 students with a fascination for STEM subject matter, which also requires investments in teachers who can spark that interest.
"Investing and funding in these fields makes the space interesting for everyone," she said, "but making sure we focus on the K–12 segment to make sure we have that population to pull from is important as well."
To be sure, the challenge is not necessarily to excite a rising workforce about the wonders of space. Bandla said, "Even though we haven't had this 'Moon moment' in our generation, a lot of what commercial space companies are doing is inspiring the next generation of our workforce, and they are very eager to get into the workforce and do things at a fast pace." She added, "If you don't have a diverse team in age, experience, gender, you name it — you're not a competitive company."
---
Posted in Public Policy and Government Affairs