Space Foundation News
---
Space Foundation Honors US Space Force With 2021 Space Achievement Award
Written by: Space Foundation Editorial Team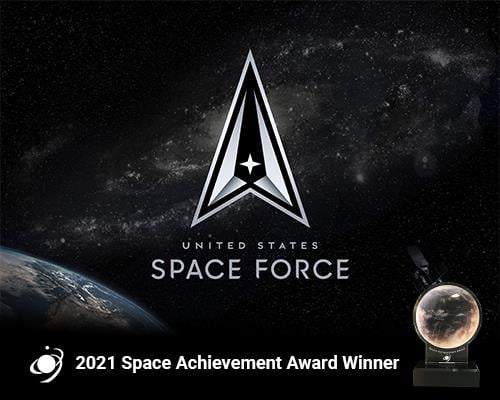 In Its Second Year, the US Space Force Has Successfully Established the World's First Independent Space Force
COLORADO SPRINGS, Colo. — June 23, 2021 — Space Foundation, a nonprofit advocate organization founded in 1983 for the global space ecosystem, today announced the U.S. Space Force (USSF) as the recipient of the 2021 Space Achievement Award.
Beginning with a core formed by the former Air Force Space Command, in fewer than 18 months the U.S. Space Force, the newest branch of the U.S. Armed Forces, has developed the doctrine, processes, leadership, organizational structures and operations of the world's first independent space force.
It is for these Herculean accomplishments that Space Foundation is honoring the U.S Space Force with the Space Achievement Award. This annual award recognizes individuals or organizations that have demonstrated space achievement, breakthrough space technology, or program/product success representing critical milestones in the evolution of space exploration and development.
In announcing this year's recipient, Space Foundation CEO Tom Zelibor said, "It is our honor to recognize Gen. John W. "Jay" Raymond and his team of guardians for their tremendous achievements in establishing a new military service branch, as well as the mission operations and partnerships that will secure our national and economic security going forward. These accomplishments that the USSF have demonstrated in a relatively short time exceed every measure we consider in choosing an honoree to receive the Space Achievement Award."
The Space Achievement Award will be presented Aug. 23, 2021, during the 36th Space Symposium opening ceremony, to be held at The Broadmoor in Colorado Springs. The ceremony will also be simulcast online as part of Space Symposium's all-new virtual experience. Chief of Space Operations Gen. John W. "Jay" Raymond will accept the award.
Kelli Seybolt and Lisa Campbell Announced as Space Symposium Speakers
Space Foundation is also pleased to announce the newest additions to its lineup of distinguished speakers for the 36th Space Symposium:
Kelli Seybolt, Deputy Under Secretary of the U.S. Air Force, International Affairs
Lisa Campbell, President of the Canadian Space Agency (CSA)
The Space Symposium website contains the latest speaker and agenda updates. This year will mark the debut of the event's hybrid — in-person and virtual — format, providing greater opportunities for members of the global space community to engage, learn, share knowledge and network. Tickets are available at www.spacesymposium.org/fees-tickets-and-policies/.
About Space Symposium
Space Symposium is the premier assembly for the global space ecosystem, hosted by Space Foundation since 1984. The live event is widely attended by commercial and government leaders, young professionals, entrepreneurs, and educators in Colorado Springs, Colorado. This year's 36th Space Symposium will enable its thousands of global attendees to seamlessly engage and conduct business both in-person and virtually via Symposium 365 Digital Platform. For more information, please visit www.space symposium.org.
About Symposium 365
Symposium 365, a division of Space Foundation, is the premier source for media and events in the global space ecosystem, offering authoritative news and information and venues for networking and conducting business via the world-renowned Space Symposium, Symposium 365 Digital Platform and The Space Report. Serving commercial, government and education sectors, Symposium 365 produces signature programming — live and online — for professionals, entrepreneurs, educators and students to learn, connect and conduct business 365 days a year. To learn more about Symposium 365, please visit www.spacesymposium 365.org.
About Space Foundation
Space Foundation is a nonprofit advocate organization founded in 1983, offering a gateway to information, education and collaboration for space exploration and space-inspired industries that define the global space ecosystem. Driven by a partnership model, Space Foundation operates three divisions that unite the entire spectrum of stakeholders — business, government, education and local communities — through corporate membership, sponsorship, fundraising and grants: Symposium 365 is the premier source for media and events, including the world-renowned Space Symposium and The Space Report. Center for Innovation and Education is a lifelong learning platform. Global Alliance facilitates collaboration around the world. Visit Space Foundation at www.SpaceFoundation.org, and follow us on Facebook, Twitter, Instagram, LinkedIn and YouTube.
###
All brand names and product names are trademarks or registered trademarks of their respective companies.
Tags: Space Foundation, Space Symposium, U.S. Space Force, United States Space Force, Space Force, USSF, space achievement award, space economy, space innovation, space ecosystem, space programs, space community, Gen. John W. "Jay" Raymond, Kelli Seybolt, Lisa Campbell
Media Contacts:
Rich Cooper
Vice President, Strategic Communications & Outreach
Space Foundation
(202) 596-0714
[email protected]
Dottie O'Rourke
TECHMarket Communications
(650) 344-1620
[email protected]
---
Posted in Space Foundation News