Space Foundation News
---
Second Summer Institute Course Explores Astronomy
Written by: Space Foundation Editorial Team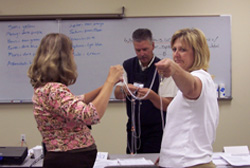 COLORADO SPRINGS, Colo. (Jul. 6, 2007) — The Space Foundation recently wrapped up a second week of the 2007 Summer Institute graduate courses for educators. "Astronomy Principles for the Classroom: Exploring Our Galaxy," focused on astronomy as it relates to astrobiology and the development of life on Earth, as well as the possibility of life elsewhere in the universe. Participating educators investigated extremophile organisms during fieldwork at the Cave of the Winds, and learned to use a planisphere during an evening of stargazing. Coursework also included exploration of how living organisms might exist on other worlds such as Mars, Europa, Callisto, and Titan. 
The week long courses for educators are held on the Colorado Springs campus of Regis University. In addition to gaining invaluable experience and increasing their knowledge base, participating teachers can earn continuing education credits, graduate credits, or work toward a master's degree with a space studies science emphasis.
Pictured are participants in the astronomy Summer Institute course creating a solar system with scaled distances using beads and string.
---
Posted in Space Foundation News