Space Foundation News
---
Space Foundation Brings the Stars to Local Elementary Students
Written by: Space Foundation Editorial Team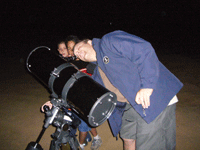 COLORADO SPRINGS, Colo. (Sep. 4, 2007) — Last week, the Space Foundation's education team conducted stargazing exercises for 75 6th grade students from Venetucci Elementary at Bear Trap Ranch. This fun and educational activity was part of an annual pre-school camp experience for the school's 6th grade students and their teachers. Bryan DeBates, senior curriculum analyst and program developer for the Space Foundation, spoke to the students about telescopes, space, and the stars. In between rain and cloud cover, the students also had the opportunity to use a telescope to examine the moon and other bright objects in the night sky.
The Venetucci Elementary teachers included a student from the Space Foundation's 2007 Summer Institute. This fall, the students will build upon this experience when the Space Foundation conducts its after-school science enrichment program called Science, Technology, and Academic Readiness for Space (STARS) at Venetucci Elementary.
Pictured: Bryan DeBates demonstrates how to use the telescope for two Venetucci Elementary students.
---
Posted in Space Foundation News