Space Foundation News
---
Space Foundation Brings Space to Interior Alaska
Written by: Space Foundation Editorial Team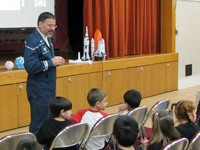 COLORADO SPRINGS, Colo. (Nov. 8, 2007) — The Space Foundation recently brought the excitement and wonder of space to students, teachers, and business leaders in Fairbanks, Alaska. At the invitation and with the support of the Fairbanks Economic Development Corporation, Space Foundation representatives and two astronauts touched more than 1700 students from pre-school through college, more than 100 teachers, and more than 500 business and community leaders. Over the course of a week, the Space Foundation and accompanying astronauts made presentations to a pre-school, 10 Fairbanks schools, and University of Alaska – Fairbanks classes; conducted a free teacher education workshop; spent a day working with students and teachers in Galena, a remote native village; and participated in numerous civic and business community events.  
Participating in this week-long trip were astronauts Capt. Wendy Lawrence and Livingston Holder and Space Foundation representatives including President and Chief Executive Officer Elliot Pulham, Director of Education Enterprise Iain Probert, and Senior Curriculum Analyst and Program Developer Bryan DeBates. Lawrence is a veteran of four shuttle missions and Holder was assigned as a shuttle payload specialist for a classified shuttle flight until the mission was cancelled following the Challenger accident. The Space Foundation and astronauts shared the reality and possibilities of space to thousands throughout Interior Alaska. Presentations by the Foundation helped to show students in remote villages the real opportunities for careers in the space industry. 
Additionally, Space Foundation Certified Space Technology partner, Eagle Eyes, donated sunglasses made with space technology to the schoolchildren of Galena. These glasses, which block 100% of UVA and UVB rays as well as blue light, will help to protect the eyesight of these children from the significant amounts of sunlight in the summer and snow glare in the winter.  
Pictured: Space Foundation President and Chief Executive Officer Elliot Pulham speaks to a group of Fairbanks elementary students.
---
Posted in Space Foundation News