Spotlight
---
Space Foundation Participates in 51st Session of UNCOPUOS
Written by: developer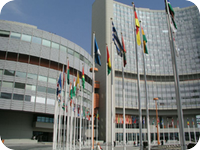 The Space Foundation recently participated in the 51st Session of the United Nations Committee on the Peaceful Uses of Outer Space (UNCOPUOS). Steve Eisenhart, Space Foundation senior vice president, strategic communications, served as a private sector advisor to the U.S. delegation at the session in Vienna, Austria, from June 11-20. The Space Foundation has served in this role since 2001. During the week, the committee welcomed a new chairman, Ambassador Ciro Arevalo Yepes of Columbia, as well as two new member nations – Bolivia and Switzerland. Significant discussion during the session focused on the role of space systems in disaster mitigation and climate change.
UNCOPUOS, with 69 member countries, is one of the largest standing committees of the United Nations. Information about the UN Office of Outer Space Affairs can be found at www.unoosa.org/oosa/en/COPUOS/copuos.html.  Additional details about the 51st Session of UNCOPUOS are available at www.unoosa.org/oosa/COPUOS/index.html.
This article is part of Space Watch: July 2008 (Volume: 7, Issue: 7).
---
Posted in Spotlight